The Aymeric Laporte transfer saga is set for a new episode after Sport reported the Athletic Club Bilbao centre-back will snub a summer move to Barcelona to join Pep Guardiola at Manchester City instead. The Catalan publication claims that the La Liga giants have given up their long-term goal of signing the centre-back, as Guardiola's sources have confirmed an agreement in principle to lure him to the Etihad Stadium instead.
The 21-year-old defender has often been linked with a move to the Nou Camp, after garnering a reputation as one of the most promising defenders around Europe. The rumours have recirculated in recent weeks after Luis Enrique was understood to have earmarked the signing of a defensive partner for Gerard Pique as his top priority for the summer mercato, with Paris Saint-Germain's Marquinhos and Everton's John Stones also among the candidates.
Sport now reports Barcelona officials believe a deal for Laporte is all but impossible, as the player has his heart set on Manchester City. Stories suggest that just days after the Guardiola move was made concrete, Barcelona were informed that his number one priority was to lure the Athletic star to England to play under him.
The report says City have reached an "agreement in principle" with Laporte, although they do not have an agreement with the club yet. As Athletic tend not to negotiate the sales of players, Sport believes the Premier League giants will have to pay the full €50m (£39.4m, $54.6m) release clause to complete the move.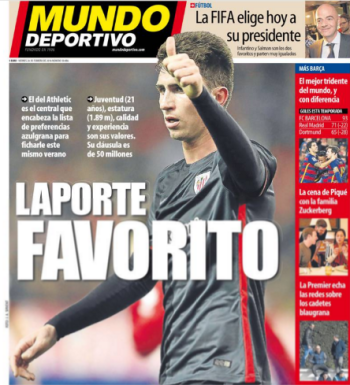 The story, however, is contradicted in Mundo Deportivo. The other Catalan publication claims on its front cover that Laporte is the top priority for Barcelona this summer, ahead of both Marquinhos and Stones.
Sport and Mundo Deportivo traditionally battle to see who gets the best exclusives on Barcelona. Time will tell who wins this one, but what is certain is that Laporte's name will be one of the hottest of the summer. Just earlier this month, the Manchester Evening News claimed that he was also on a list of possible targets for Manchester United.
Laporte, meanwhile, recently appeared to send a signal to Barcelona after admitting that the La Liga giants are the best team in the world in an interview with Football365.
"This rumour [seems to] come back after every mercato. The last rumour, it was even with PSG. Newspapers insist, but nothing is true. Regarding any potential contact with Barcelona, you have to ask about that with my club because I am under contract. Bilbao have never spoken to me about any interest from Barcelona," he said when asked about the Catalans' interest.
"For the moment, I am with Athletic, and I am concentrating on my season. We are achieving good results. Barcelona are the best team in the world but for the moment, there is nothing concrete and no one has called me directly yet. I am steady and waiting patiently."