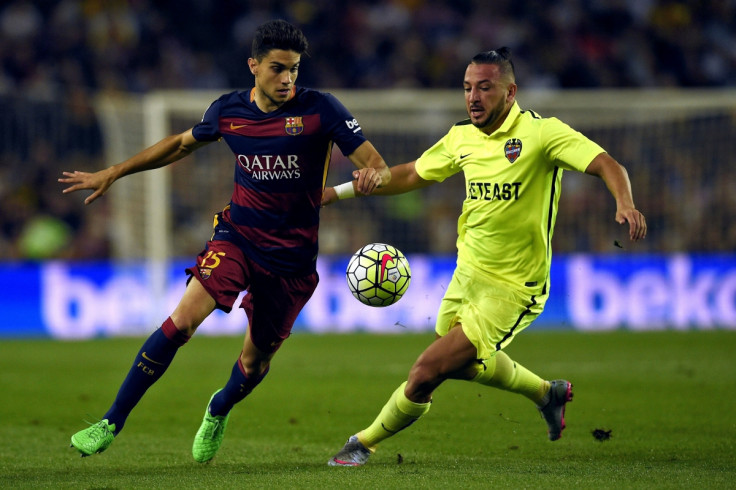 Speculation linking Barcelona's out-of-favour Marc Bartra with a summer move to Manchester United have re-emerged in the Spanish press after the player's agent, Carles Puyol, posted a picture of himself in Manchester. Mundo Deportivo suggests that the presence of Puyol and his business partner Ivan de la Peña in the city is not a a coincidence, as Puyol has a strong relationship with Louis van Gaal and Old Trafford would be a logical destination for Bartra should he leave the Nou Camp.
Bartra himself revealed during the summer transfer window that he was close to leaving Barcelona due to a lack of playing time, with media linking him with Spurs, Manchester City and Bayern Munich. However, the 25-year-old defender changed his mind and decided to stay at Barcelona to force his way in to Luis Enrique's first-team plans.
However, with Javier Mascherano, Gerard Pique, Thomas Vermaelen and Jeremy Mathieu all still ahead of him in the manager's plans, speculations about his potential exit have continued.
Mundo Deportivo reported in November that Bartra had hired his former Barcelona teammate as a representative after the former Spain international started a new career as an agent. The presence of Puyol in Manchester has sparked new rumours in Mundo Deportivo about a potential move to Old Trafford.
Bartra has only started three La Liga games this season for Barcelona and earlier this week Mundo Deportivo reported he was considering leaving the club in the summer. His current release clause is set at €25m (£19.6m, $28.3m), but this may be reduced if he plays less than a set number of games each season.
When asked about his situation following the 1-1 Copa del Rey semi-final second leg draw with Valencia, the Barcelona defender said: "I won't give up. I am an optimistic guy."
"My aim is to make history at this club. My situation is not easy to deal with but it's not the first time. I've always found the way out of a bad situation. I have the trust of my teammates and little by little I also hope to convince the manager [I deserve a place in his plans]. The coach gave me minutes today. I am optimistic and I just can keep working".