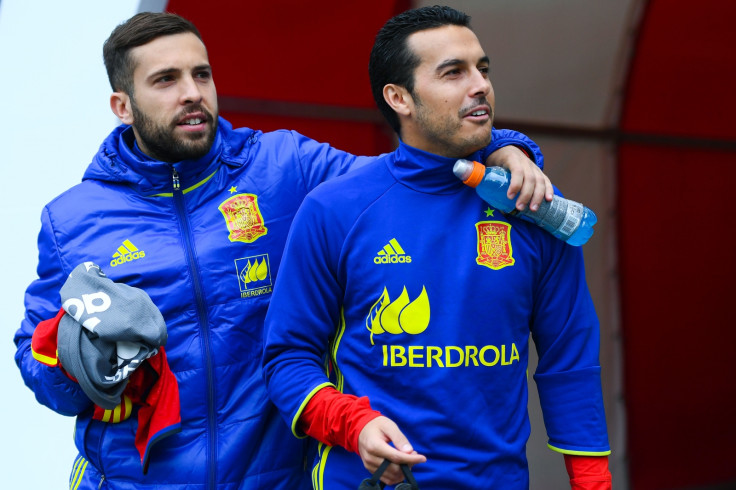 Barcelona star Jordi Alba has admitted he wants his close friend Pedro Rodriguez back at the Nou Camp, adding that the Chelsea forward has the skills to be a success wherever he plays. Alba's quotes come on the heels of the Canary Islander suggesting he wants to return to the current La Liga champions, just a year after he left them to move to the Premier League.
The 28-year-old winger left Barcelona in the summer of 2015 having grown frustrated with his lack of playing time under Luis Enrique, where he had fallen behind Lionel Messi, Luis Suarez and Neymar in the pecking order.
However, the Chelsea star recently made a surprising announcement from the Spanish camp at the European Championship after revealing that he hoped to return to Barcelona, adding that he had even spoke with club president Josep Maria Bartomeu when the pair met at the Copa del Rey final about the possibility of it happening.
Pedro said to Sport: "Hopefully [I can return to Barcelona] but I know it's hard, I have already spoken about it with the president when we were together in the [cup] final and spoke to all the people who want me there," the Chelsea forward said. "It's complicated, but I've always said that I would like to retire at Barcelona. However, I know it's difficult because the years go by and the club has the best players in the world, it is a very demanding club and to return there is complicated. But I do not rule it out either."
Sport later reported Barcelona sources believe the chances of the Chelsea star returning to La Liga are low. The Spanish publication claims that Luis Enrique would welcome him back, as he is desperately looking to bolster his attacking options, but the deal would be a complicated one due to money.
Chelsea paid €30m (£23.7m, $33.7m) to secure Pedro's services last summer and would only sell him for a similar fee. Barcelona value Pedro highly, but would not contemplate paying that figure after already considering the €18m release clause of Celta Vigo forward Nolito too much.
Regardless, Alba has encouraged club officials to make an effort to lure Pedro back to the Nou Camp, saying that his return would be a boost for the Catalan side.
"Pedro is one of the few friends I have in football and I wish him the best. I hope I can play with him again at Barcelona because it would be good for the club," the defender said during a press conference, as quoted by AS. "He has all the conditions to success at Barcelona. [Last summer] he decided to leave and I think it was normal. He has had a difficult season [at Chelsea] but he is a vital player for any team and for Spain."
Alba, meanwhile, also defended Arda Turan from the critics ahead of the meeting with his Barcelona teammate in the European Championship game between Spain and Turkey. The former Atletico Madrid player has been under scrutiny following a poor season with the Catalans. He was far from his best in the opening game against Croatia but Alba believes he could be a real threat against Spain.
"Arda is very important," he said. "Barcelona made a great signing with him. He had the misfortune of being out six months [due to the transfer ban] but then he has been phenomenal. He is vital and an idol for his country, he will be eager to play [against Spain]. He always creates danger and will be super-motivated."