Barcelona goalkeeper Marc-Andre ter Stegen has refused to commit his future to the Nou Camp amid speculation linking him with moves to both Manchester City and Manchester United. The Germany international has also urged his current side to take nothing for granted ahead of the Champions League second-leg against Arsenal, despite the Catalans having a 2-0 lead from the first-leg victory.
Mundo Deportivo reported on 15 March that the keeper was considering leaving the club the end of the season, having grown frustrated with Luis Enrique's rotation policy between the sticks. Ter Stegen serves as Claudio Bravo's back-up in La Liga, while being first choice for the Champions League and the Copa del Rey. The report suggested the two Manchester clubs are monitoring this situation ahead of a summer move, despite the player being contracted until 2019 and having an €80m (£62.7m, $88.9m) release clause slapped on him.
Future Manchester City boss Pep Guardiola is known to value a goalkeeper's ability to play with the ball at their feet, making Victor Valdes and Manuel Neuer vital parts of his club sides to date. United would, meanwhile, be likely to move for the player should Real Madrid succeed with their renewed attempts to lure David de Gea.
Asked about these reports in a press conference ahead of the Arsenal game, Ter Stegen said he was solely focussed on the upcoming match, failing to confirm he will remain at Barcelona next year.
Questioned specifically on whether he was open to offers from other clubs, he said: "It is a question that many people ask me but I'm only thinking about tomorrow's game [against Arsenal]. I want to give my best and there is still a long way to go before the end of the season. Then, you never know. It is football and we'll see."
"The truth is I'm not thinking about what comes in the future. At the moment I'm only thinking about tomorrow. I am very keen on the game because it gives me a new opportunity to play again. That's all."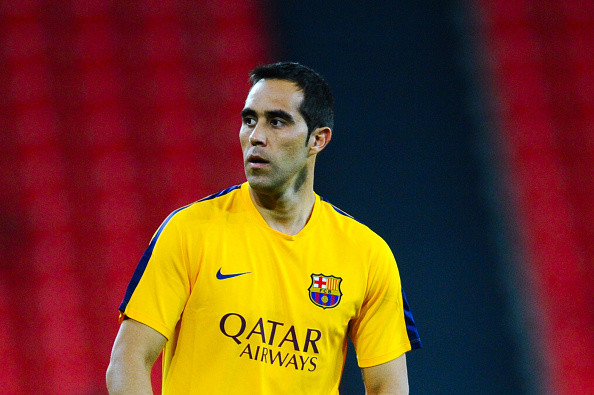 Barcelona see Ter Stegen as a long-term replacement for Valdes, but it seems unlikely he will see much La Liga gametime ahead of Bravo, as the Chile international is on top of his game.
Ter Stegen added: "I don't know if I want you to call me the goalkeeper of Barcelona's future, because the future can be very far away. I only care about tomorrow. We want to win and that's all. We must focus on tomorrow's game.
"It is never sure that you're going to be number one. You always have to give your best and then the coach decides. You can only do your best and I am trying to do that in training sessions and in games."
Questioned about how his relationship with Bravo is, he replied: "Good."
Ter Stegen also insisted that Barcelona will try and win against Arsenal on Wednesday, despite their advantage following victory at the Emirates Stadium. He particularly warned his teammates about the threat of Mesut Ozil.
, meanwhile, has claimed that Barcelona will try to beat Arsenal on Wednesday night despite their advantage in following the victory at the Emirates Stadium. Furthermore, he has warned his teammates about Mesut Ozi's threat.
"It will be a tough match. We have a good result but it does not mean that we are already in the quarter-finals. We want to win," he said. "They are able to overcome the result. Arsenal are one of the best teams in Europe. We have to play as usual, without fear. We have to win the game as we try in any other game."
Speaking about Ozil, he added: "He is a player who can do things you can not imagine, like Messi. He is awesome. I've played two or three times with him. He is very important for Germany. He can do amazing things and we must stop him".