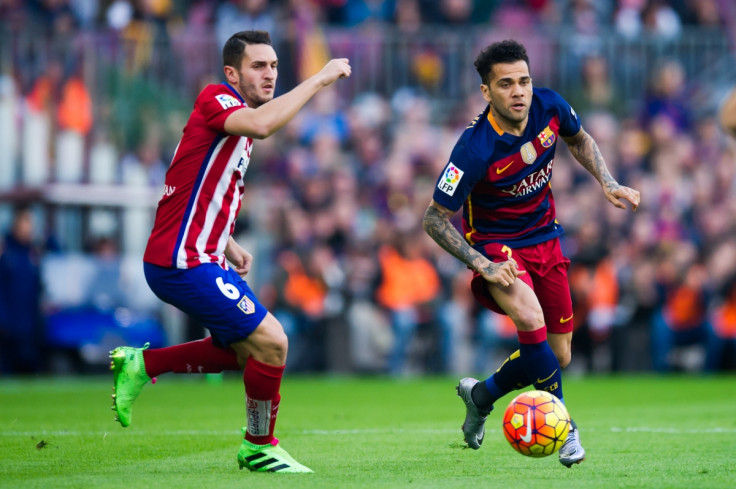 Barcelona star Dani Alves has reiterated his desire to one day play Premier League football, following summer speculation linking him with the likes of Manchester United. Speaking ahead of the Champions League second-leg clash with Arsenal, the Brazil international said he would love to experience English football, but was coy over the possibility of a Pep Guardiola reunion at Manchester City.
Alves was believed to be close to moving to England last summer, having even called a press conference to announce he was ready to leave the Nou Camp. His contract was set to expire and the Catalans did not look keen to offer him a renewal.
The Independent and a number of reports in Spain said Manchester United were ready to take advantage of the situation, securing his services on a Bosman was Louis van Gaal saw a replacement for out-of-favour right-back Rafael. However, the 33-year-old signed a new deal in Catalonia until 2017, with United being forced to sign Matteo Darmian instead.
Alves' future at Barcelona was also thrown into question over the winter transfer window, after Mundo Deportivo and AS both reported the Brazil international had received a lucrative offer to move to China.
The right-back, however, has now suggested that if he leaves Barcelona he would be keen to play in the Premier League instead.
"It's special: there's a corner and it's like it's a goal," he said during an interview with The Guardian ahead of the game with Arsenal. "I've always said that playing in England is something I've got pending. I don't know when but I'd like to play there, to experience in person what I see from the sofa. The way the people live football. Wow, it's incredible. Full stadiums, living every moment."
"If you've left your skin on the pitch, [English] fans respect that," Alves continued. "When you become a supporter, you don't support them when they win and then not when they don't. What's that? That's no way to understand football. If I'm a fan, I'm a fan always. In England that's the way. If they don't win: 'Next time!' Not: 'This lot are shit'..What? It's easy to sit on your sofa and say: 'He's useless.' Go on, see if you can do the same."
Neymar, Sergio Busquets and Claudio Bravo were among the Barcelona players linked, with varying degrees of plausability with a move to the Etihad ahead of a reunion with Guardiola. However, asked about whether he would consider a move to City, Alves said: "Ha ha ha! I don't think he'd call me."