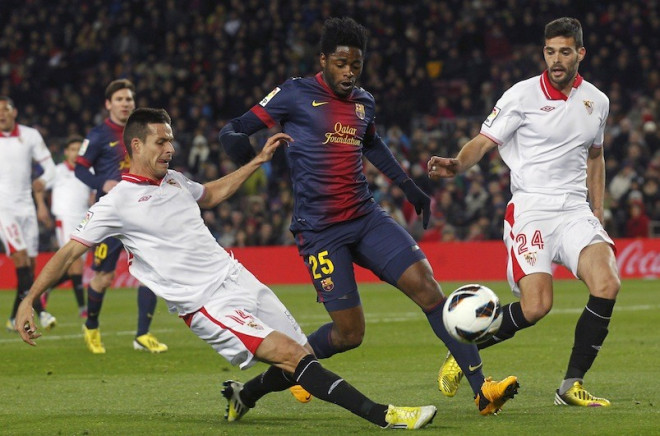 Barcelona midfielder Alex Song could be set for a Premier League return this summer, with Manchester United reportedly interested.
The Cameroon international grew into a pivotal player for the Gunners during his seven campaigns in London and he has struggled to break into Barcelona's starting line-up, failing to secure a regular place.
And even though the Catalans paid £16m for him in the summer of 2012, it seems they will accept his transfer for a lower figure as his is one of the names that appears in the list of transferable players drawn up Barcelona chief Andoni Zubizarreta, according to fichajes.net.
The Red Devils have been keeping a close eye on Song during recent weeks and all indications suggest there could soon be an agreement between both parties to formalise his transfer during next summer transfer window.
Manchester United boss David Moyes, who has to re-build his squad, is looking to strengthen his midfield and, apart of the Cameroonian, has also been linked with moves for Toni Kroos and Ilkay Gundogan.
Song's arrival will give United some much-needed solidity in midfield and a good creative option from deep, given the player provided 13 assists during his last year at Arsenal.
The 26-year-old hopes to regain his best the Premier League form before the 2014 World Cup, which he will attend with Cameroon.