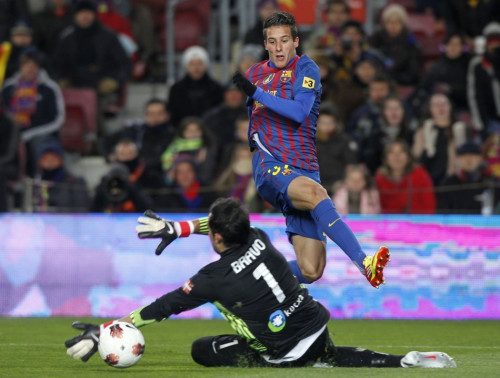 Liverpool's hopes of landing Cristian Tello on loan until the end of the season have suffered a setback after the Barcelona youngster claimed that he is going to stay at the Nou Camp at least until the summer.
Brendan Rodgers already tried to sign Tello in the last transfer window but the 22-year-old forward instead decided to sign a new deal with Barcelona and rejected the Merseyside club's offer.
His lack of playing time during the first part of the season had rekindled speculation about his exit, as the player admitted recently that he was frustrated about his exclusion from the first team.
However, even though Tello has started just two La Liga games, he refuses to give up on his dream of playing for the Catalan giants.
"I'll definitely stay at Barcelona until June, then we'll see what happens at the end of the season. I am happy here", Tello said in the mixed zone after beating Getafe in the Copa del Rey.
"For me, it would be an honour and a privilege to be at Barcelona for as long as Xavi (who made his 700 appearance for Barcelona last Thursday) has.
"Neymar's arrival has reduced my chances to play but I have to continue working hard to play well when the boss gives me the chance," Tello added.
Nevertheless, Tello's latest quotes suggest that he will consider a move at the end of the season so Liverpool may be tempted to make a fresh attempt to sign the player in the summer.
Rodgers is looking to strength his attacking options with a winger and Tello is reportedy the back-up alternative to Basel youngster Mohamed Salah, who remains the preferred choice. Benfica's wantaway Ola John John is the other forward who has been linked with the the Anfield club in the last month.