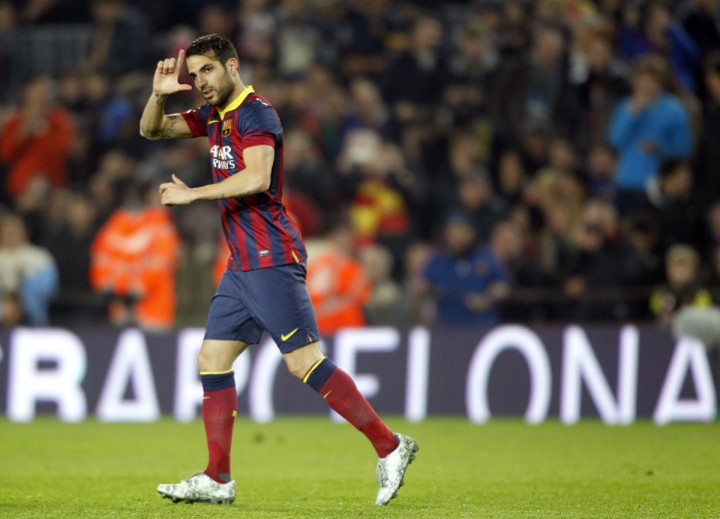 Cesc Fabregas is leaving Barcelona this summer for €33m. Gerard Pique has let this bit of news slip at a press conference attended by Spain boss Vicente del Bosque, according to AStv.
The former Arsenal captain has been the most talked about player in this summer's transfer window. He has been linked to Premier League clubs Chelsea, Manchester United and Liverpool along with his former side Arsenal.
Fabregas who had to endure the wrath of the fans during the season has also been excluded from new manager Luis Enrique's plans. But, his teammate Gerard Pique has come out and shown his support, "I love Cesc very much but he's going through a difficult situation, the club has never valued him as highly as they should have done. He would fit into any side," he was quoted as saying by the Daily Mail.
The ex-Manchester United defender, who has played with Fabregas through the youth team at Barcelona, seems to have let slip his plans for the future at a Spain press conference along with boss Vicente del Bosque.
During their conversation, Spanish AStv caught them saying, "He told me it's all done," Pique said. "Cesc?" del Boque replied. "He's going, 33 million he told me," the Spanish defender concluded.
However, even though the price was confirmed, the destination still remains a mystery. The Barcelona midfielder has been heavily tipped to join Chelsea in the past week following the announcement of Frank Lampard's departure from the club.
It also seems like Arsenal, who are said to have first option, have passed up the chance to bring their former player back to the Emirates.
Meanwhile, Santi Cazorla feels that if his Spanish teammate does leave Camp Nou, he should head back to North-London where he spent eight years as a player and captain of Arsenal.
"I've read that he could go to Chelsea but I'd prefer him to come to Arsenal because he's a great player and they really love him there," Cazorla said.
"I don't know what his future is, but I hope that he will be happy and enjoys the team wherever he is," the ex-Malaga man concluded.