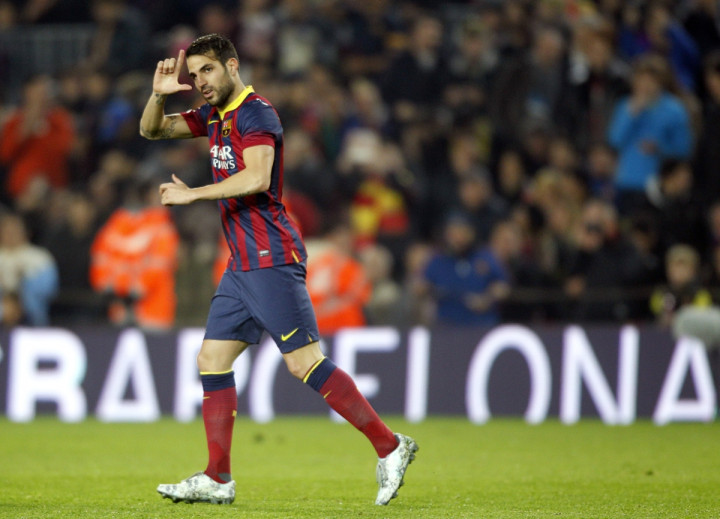 Barcelona, according to reports, would rather sell Cesc Fabregas to Manchester United than to Chelsea – as they are not likely to want to bolster the chances of a potential Champions League rival.
The Blues, United, City, Liverpool and Arsenal have all been linked with the Spaniard recentlly after reports in Spain claimed the Catalan club has decided to part ways with him – having touted his services to a number of suitors with their asking price set at €36m (£29m).
Arsene Wenger's side seemed favourites to re-sign him given a clause they agreed with Barcelona in 2011 which forces the Catalans to inform them if they receive a bid for the midfielder, allowing the Gunners to match such a bid.
However, according to reports in Spain Arsenal and City are now out of the race – leaving Chelsea and United as the only two suitors battling to secure his services.
Catalan-based newspaper Mundo Deportivo claimed the former Arsenal favourite was close to completing his move to Chelsea but Marca reports that Barcelona are more likely to favour a deal with United – as Louis van Gaal's side will not play in the next Champions League.
Furthermore, Marca reports that while United are willing to pay around €43m Chelsea is offering just €40m.
Nevertheless, the Spanish newspaper understands that Fabregas would prefer to join Chelsea – not only because he wants to play Champions League but because he has a house in London and really enyoyed his time in the British Capital during his spell at Arsenal.
Meanwhile, Marca claim both clubs are prepared to pay him around €9 million per season.
After Frank Lampard announced his Chelsea departure, Jose Mourinho is looking for a midfielder and believes Fabregas would be Lampard's perfect replacement.