There was no shortage of Paris Saint-Germain players in sublime form during Tuesday's 4-0 destruction of Barcelona. Angel di Maria and Julian Draxler tormented the opposition defence. Presnel Kimpembe nullified the threat of Luis Suarez on his Champions League debut. Marco Verratti channelled Andres Iniesta as he effortlessly dictated the game from midfield.
Amid all that, Adrien Rabiot's role was perhaps the most significant. The Frenchman shielded his back four superbly and persistently broke up everything Barcelona tried to string together. His presence forced the Catalans into mistakes, and when those mistakes came, he was first on the ball, moving it on to a teammate capable of doing greater damage in attack. Simply, he did not allow Barcelona to play.
According to Squawka, the 21-year-old finished Tuesday's (14 February) game with a 100% tackle success rate. Not bad going given he was booked after just three minutes. The best of those was of course on Lionel Messi, intercepting and nutmegging the Barcelona no. 10 in one fluid movement. It was a performance reminiscent of Sergio Busquets at his best on a night where the Spaniard was thoroughly shown up by the young Frenchman.
In front of a worldwide audience, it was a remarkable night for Rabiot in the Champions League but under Unai Emery this season he has been one of PSG's best performers, bringing a consistency and efficiency to his game that has been a long time coming.
Rabiot is another gem in a seemingly endless list of French players aged 21 or under destined for greatness. But perhaps worryingly for PSG, he seems in no hurry to commit his future to the club.
The France international has been regularly linked with Premier League clubs, namely and somewhat inevitably Arsene Wenger's Arsenal. He requested a move away from the French giants in January 2015, less than a year after he signed a new contract at Parc des Princes, which is set to expire in 2019. His future at the club has been the subject of serious speculation for some time now.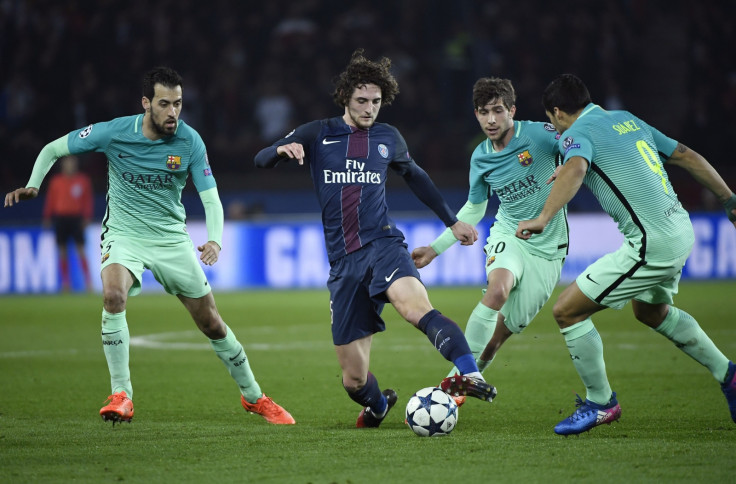 The PSG midfielder spent some time in Manchester City's youth ranks and has made no secret a return to England one day is a real option for him. He told Telefoot last September: "I really liked my time in England and the life there, even outside of football.
"I told myself that I will return one day. I have always had the desire to play in England, it is in me.The Premier League – that is football."
While he has grown in stature this season under Emery with last night's performance underlining his bright future in French football, his contract situation remains unresolved. In a recent interview Le Figaro – published before last night's game – he told the French publication: "I am under contract until 2019, it is not urgent. We will have time to talk about it at the end of the season. The club knows. They try to protect themselves, to extent the maximum number of players and I understand them.
"I know they rely heavily on me, that I am part of a group of young players with whom we can form a new nucleus for the future. "
It is a tone Rabiot has taken in the past, telling Le Parisien in March 2016 he will continue to "take things as they come" despite having just taken up a more prominent role in Laurent Blanc's side at the time."
PSG will hope his nonchalant view on his future at the club changes before the summer. His teammate Verratti expects the Frenchman to become "one of the best midfielders in the world" before long. Undoubtedly after last night, more and more people will share that view.