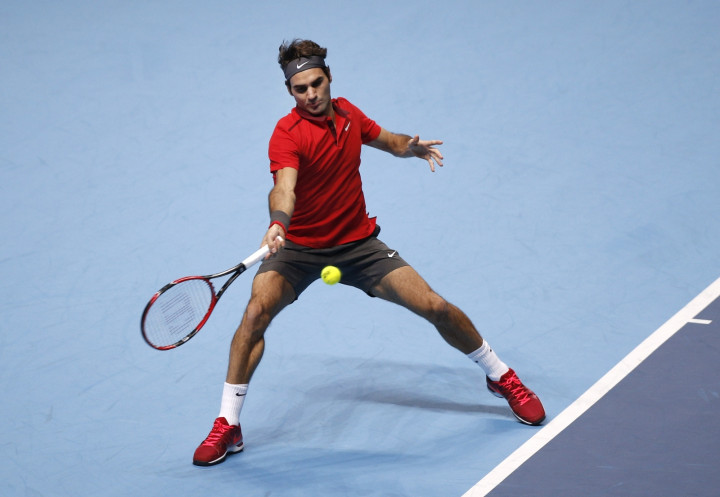 Roger Federer closed in on qualification for the ATP World Tour Finals last four after overcoming Kei Nishikori in two sets in London.
Federer prevailed 6-3 6-2 in 69 minutes to claim his second win of the round robin phase and stands on the brink of reaching the semi-final for a 12th time in 13 appearances at the season-ending tour finals.
Victory for Milos Raonic over Andy Murray will see the 17-time grand slam champion progress, while a three set win for the Briton will also be enough for the 33-year-old to become the first player to reach the knock-out stage.
The result also means that Murray will make a premature exit from the finals in London should he lose to Raonic, who himself could exit the tournament with a defeat.
After the first four matches matches at the start of the singles competition had gone to just two sets, Federer and Nishikori's round robin encounter promised much with the pair's head-to-head series locked at 2-2.
Success for either player would all but see them qualify for the semi-final, depending on the result of the other match in Group B between Murray and Raonic and that factor led to both players attacking from the outset.
Successive aces saw Federer warn off the first of two break points in the third game before a missed forehand saw Nishikori denied for a second time as the Japanese player looked to grab the early ascendency.
That missed opportunity would come back to haunt the 24-year-old who was broken after some short hitting allowed Federer to strike a forehand into the corner.
Nishikori survived going a double-break down with timely success at the net as Federer missed a string of sliced backhands but the Swiss' chance to cement his advantage came as he swatted away a forehand to take the opening set.
Though Nishikori underwent treatment for a wrist problem the delay did nothing to halt Federer's charge as the six-time Tour Finals champion grabbed an early break at the start of the second.
And from that moment forward Federer was unrelenting in his approach, storming to victory in two sets in just over an hour to continue his assault on finishing the year as world No.1 and confirming the fifth successive straight sets result in the round robin stage.