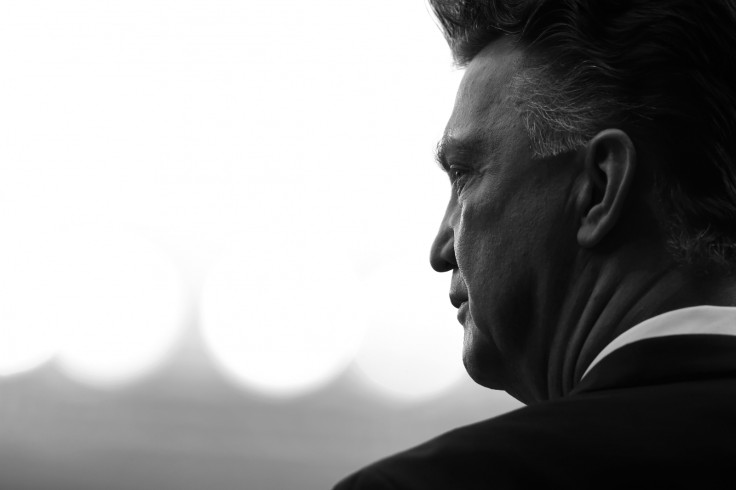 10:00: Somehow, Manchester United will leave Southampton with three points this evening. You would have never been able to tell Louis van Gaal's side had won four on the bounce ahead of kick off, they were abject for much of this game but two clinical finishes from Robin van Persie lifts them into third place ahead of the visit of Liverpool on Sunday.
Elsewhere tonight we have had the third round draw for the FA Cup. Find out who your side drew right here.
FULL TIME
Southampton 1-2 Manchester United
9:49: Fellaini, in trying to protect the ball in the corner, is accused of throwing an elbow, but replays suggest there was nothing to it. Rooney picks up a yellow card for dissent as we head into four minutes of added time.
9:47: Some excellent footwork from van Persie draws a wild challenge from Mane who is booked. United can run the clock down out on the right flank.
9:45: There will be no cameo from Radamel Falcao this evening as van Gaal makes his third and final change, bringing on Darren Fletcher for Mata.
9:44: Bertrand sees his long range effort deflected wide for a corner but Evans clears with an impressive diving header.
9:43: The ball falls to Clyne on the edge of the area who tries to find the bottom corner with a low effort, but de Gea is never really troubled. It really is staggering to think United five minutes away from three points given how poor they have been at times today.
9:42: Evans thinks he is fouled trying to see the ball out near the corner flag but Mayuka cleverly wins a the corner.
9:40: Fellaini wins possession about 30 yards out from his own goal and appears to be tripped as he attempts to shuffle away. He picks up the ball, expecting the free kick but is instead penalised for hand ball! Silly Marouane, play to the whistle.
9:36: Another chance for Southampton, Mayuka coming on for Shane Long. Just over 10 minutes of this game remaining.
9:35: Rooney is robbed of possession and Southampton launch a counter, culminating in Mane firing low across goal. Yet again, however, David de Gea reacts brilliantly to bat the ball away for a corner, which is wasted.
9:33: He hasn't had many other touches other than those goals, but van Persie has looked much improved this evening. He hold up play and use of the ball - when United have been able to find him - has been impressive.
9:30: Questions will be asked of Forster, the big goalkeeper could have surely come out to collect that ball before it reached the boot of van Persie? Before that went in, young Jake Hesketh came onto replace Tadic.
9:29: United lead again! From out on the left, Rooney swings a big free kick in towards the back post where van Persie has made an outstanding run to toe the ball past Forster and into the back of the net! Somehow, United are winning this game.
Goal! Southampton 1-2 Manchester United (Robin van Persie, 70)
9:27: United want the advantage played after Rooney is fouled after a neat one two with Herrera but the ref instead awards the free kick.
9:25: While United have been downright awful this evening, Southampton have been erratic at best, too. They've failed to take their chances and have lacked composure in the final third, despite United's generous attempts to tee them up.
9:20: Rooney's corner is... interesting, whacking it woefully straight out of play at some pace. He looks ruefully at the turf as if expecting to see a mole mischievously poke his head out of the ground at any moment. The moment doesn't come.
9:19: A neat move from United breaks down as Mata is just squeezed out but Young picks up the pieces. His lifts an inviting cross into the box that Fonte has to head over. United corner.
9:18: Rojo this time easily surrenders possession to Tadic who plays a ball through to Pelle. It's a difficult angle, but the Italian should have perhaps done better with that after lashing it over the bar.
9:16: United's distribution has been downright awful at times this evening. This time Young attempts to switch play but instead rolls the ball into the path of Tadic who leads a counter. United get men back as the attack breaks down, but they are doing themselves no favours this evening.
9:14: Tadic finds Pelle inside the box who takes it on his chest and attempts another spectacular overhead kick but he is closely marshalled by Evans who makes the block.
9:11: Twice Young does well down the left but Southampton manage to clear on both occasions. Rojo wins the header from the clearance and almost frees Rooney down the inside left channel but there is too much pace on the ball which rolls out for a goal kick.
9:09: Another great chance for Southampton! United give the ball away yet again with Jonny Evans this time the culprit. Saints pounce and launch a ball in from the left with Long breaking into space at the far post. He gets his head to it but only nod straight into the arms of De Gea.
9:06: van Persie does brilliantly to keep the ball in play and flick it into the path of the onrushing Fellaini who leads a counter, but the Belgian's pass is another poor one as he seeks Rooney
9:04: Yoshida suddenly finds himself in plenty of space inside the United box and drops a shoulder to beat Carrick with ease. Rather than shoot, he looks to do likewise with Evans who gets across and ushers the ball out. Southampton want a corner, but won't get it.
9:02: And we are back underway for the second half at St Mary's. Much improvement needed from United.
HALF TIME
Southampton 1-1 Manchester United
8:48: United's best passing move in the half sees Rooney and Herrera exchange passes outside the area before van Persie lets fly with a vicious effort from outside the box. It hits the side netting, however, and that will be that for this half.
8:47: Pelle plays a neat one two with Tadic on the edge of the area and drags a shot wide that Long almost gets on the end of. No dice, however.
8:46: Tadic makes an utter mug of of Fellaini, urging the big Belgian to charge in to try and head the ball before casually flicking it over his head and launching an attack. The move finds Clyne overlapping who wins a corner, but nothing comes of it. Two minutes of added time to go.
8:44: Evans carries the ball forward and with no one interested in closing him down, advances forward, finding Rooney in space who sprays wide for Young. His delivery isn't bad, but there is little movement in the box and the ball sails out for a Saints goal kick.
8:42: Carrick now appears to have slotted into that backline between Rojo and Evans. The 2-5-2 lives on.
8:39: Change for United as Ander Herrera comes on for Paddy McNair. That would suggest a change to a flat back four in defence with Valencia and Young slotting in at full back outside of Evans and Rojo.
8:37: A promising United move breaks down as Fellaini attempts to switch play down the right flank, where there is no one in a United shirt present. The Belgian has had a very poor half.
8:34: What a chance for Southampton. Evans first fails to clear a cross swung in from the right and McNair makes an awful mess of his follow up effort, slicing the ball into the path of Long who can't keep his half-volley on target. United are all over the shop at the back yet again.
8:31: Southampton are level! Fellaini attempts a dreadful pass infield that Davis intercepts and drives towards the heart of United's defence. It breaks to Long down the inside right who slips it across goal where Tadic sees his effort charges down, but Pelle reacts quickest to lash it past de Gea, via a slight deflection.
Goal! Southampton 1-1 Manchester Unites (Graziano Pelle)
8:29: Tadic this time frees Pelle down the inside left channel but his shot on goal takes a slight deflection and is comfortably collected by de Gea.
8:28: Southampton are growing into this as Tadic evades a challenge after being played in by Pelle but his through ball for Long is horribly over hit.
8:26: Paddy McNair is caught in possession just outside his box by Mane, who dances his way in, looking to shoot. He jinks past Evans and has the chance to let fly, but goes for another step over and is instead dispossessed by the covering Carrick.
8:24: United stroke the ball across their back line fairly comfortably until Rojo, out on the touchline, takes his eye of the ball, urging Shane Long to jump in and win a throw in for his side deep in enemy territory.
8:22: Carrick comes forward and slides a precise ball through to Wayne Rooney who has pulled away from his marker. He immediately sprays the ball wide for the onrushing Young but his delivery isn't too clever and Saints clear.
8:19: Smalling goes off and United continue with ten men. Not for long, however, as van Gaal bellows for his team to put the ball out of play for Jonny Evans to come on.
8:17: It never ends for United. Chris Smalling goes down unchallenged after appearing to suffer a hamstring strain. He doesn't look like he will be able to continue.
8:15: Southampton respond immediately with Mane playing a neat one two with Tadic launch himself into the box but Carrick steps across to force the corner. From the resulting corner, Pelle is unmarked but heads wide from the near post.
8:13: United lead an it's a gift from Southampton. Under pressure from Rooney, Clyne slots the ball back to Fonte who tries to play a blind pass back to Fraser Forster. The Portuguese defender gets nowhere near enough on the pass however, allowing van Persie to race onto the loose ball and gleefully slot past the Saints goalkeeper.
Goal! Southampton 0-1 Manchester United (Robin van Persie, 11)
8:10: United carefully probe in front of Southampton until Wayne Rooney dallies, allowing Davis to nip in and rob him of possession. United have it back moments later but Fellaini's short ball to Mata is taken by Mane who gracefully skips past a challenge to relieve the pressure on his side.
8:06: You'd expect Wanyama and Fellaini to enjoy a few duels this evening and the Kenyan wins the first of them, nicking the ball away from the United midfielder and winning a free kick for his trouble.
8:04: Bertrand receives the ball from a throw in deep in United territory and swings an inviting cross into the box. Long has edged away from Young but cannot keep his header down and nods over.
8:02: Long looks to stretch the legs of the United defenders as he charges on towards the end of a loose ball but Smalling keeps up with him a hoofs clear.
8:00: And we are off and underway at St Mary's.
Southampton v Manchester United subs:
Southampton: Kelvin Davis, Gardos, Mayuka, Isgrove, Reed, Targett, Hesketh.
United: Evans, Falcao, Januzaj, Lindegaard, Ander Herrera, Fletcher, Wilson.
7:55: And both teams are out on the pitch, kick off moments away at St Mary's.
TEAM NEWS - Southampton: Dusan Tadic has passed a late fitness test and will start this evening but Ronald Koeman is without Morgan Schneiderlin and Jack Cork in midfield. Victor Wanyama is around to provide a bit of bite in front of a back four that is without Toby Alderweireld.
TEAM NEWS - Manchester United: Paddy McNair slots in at the back alongside Marcos Rojo and Chris Smalling. Wayne Rooney returns after missing the 2-1 win against Stoke City with Juan Mata retaining his spot. Radamel Falcao takes a place on the bench.
7:30: Elsewhere tonight there has been the small matter of the FA Cup third round draw. Southampton will host Mick McCarthy's Ipswich Town while Manchester United will travel to either Accrington Stanley or Yeovil Town, with those still awaiting a second round replay.
TEAM NEWS
6:45: There are sub-plots aplenty this evening as Southampton host Manchester United at St Mary's. Sat fifth in the table a point adrift of Ronald Koeman's side, United can leapfrog them and West Ham United into third place should they secure three points this evening and claim their fifth consecutive league win.
Things were rosy for Southampton just a few short weeks ago but back-to-back defeats to Manchester City and Arsenal have for the first time this season cast doubt over their top four credentials. The club's strength in depth will also be thrown under the microscope this evening with notable injuries disrupting the Dutchman's plans – not ideal given the frantic festive period awaiting the club.
Despite shipping three at St Mary's eight days ago to Manuel Pellegrini's side, Southampton still have the best defensive record in the league having conceded three less than their nearest rivals Chelsea. United meanwhile still have just the one away victory this season to their name but the steady resurgence Louis van Gaal has overseen has been commendable.
A win tonight for the former Netherlands boss and United will sit just five points behind Manchester City. Southampton,however, can prove their inspired first four months of the season were not mere chance if they can quell United's rise this evening.
The somewhat fractious relationship between van Gaal and Koeman promises to be a compelling side show to tonight's fixture. It was the current United boss who gave Koeman his first coaching role at Barcelona in 1998, bringing the former player back to the Nou Camp despite the protests of the Catalan giants' hierarchy.
That healthy relationship in La Liga deteriorated during its Eredivisie reboot in 2004 when van Gaal was appointed technical director of Ajax, then managed by his former protégé Koeman. While his duties were to focus on club transfers van Gaal somewhat inevitably strayed and was a frequent visitor during club training sessions, pulling up a chair on the side lines to watch over Koeman coaching.
A power struggle between the two came to a head when van Gaal opted to sell a talented Swedish youngster by the name of Zlatan Ibrahimovic to Juventus on the final day of the transfer window, leaving Ajax with no time to secure a replacement much to the ire of Koeman.
As the simmering rivalry over spilled, van Gaal was the first to leave the Dutch giants, resigning in October following Koeman's complaints to the board.
Tonight is the first meeting between the two in opposing dugouts, will their rivalry still have the same spice to it?