Thursday's scores: Stoke City 1-1 Manchester United, Tottenham 5-3 Chelsea, Aston Villa 0-0 Crystal Palace, Hull 2-0 Everton, Liverpool 2-2 Leicester, Man City 3-2 Sunderland, Newcastle 3-3 Burnley, QPR 1-1 Swansea, Southampton 2-0 Arsenal, West Ham 1-1 West Brom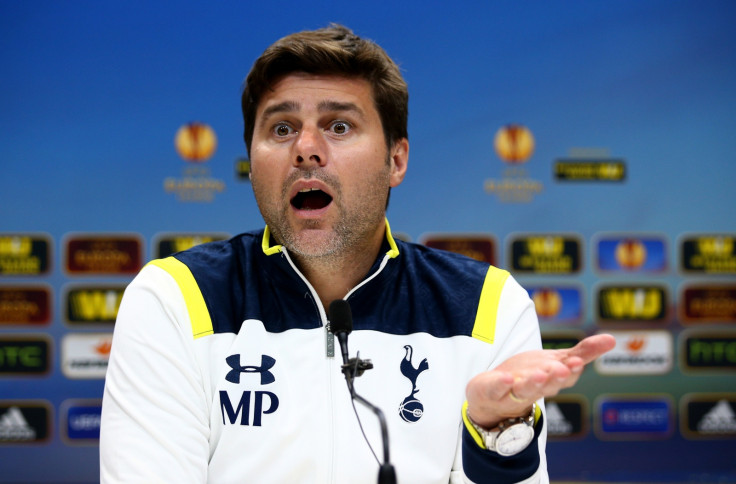 7:26: What a wonderful start to 2015 for Spurs. A sobering defeat for Chelsea still leaves them top of the Premier League, but by virtue of C coming before M in the alphabet. Jose Mourinho's side and Manchester City are now level in every department, goal scored, goals conceded, points and goal difference.

FULL TIME

Tottenham 5-3 Chelsea

7:23: Spurs expertly run the clock down in the corner. Chelsea might have time for one more chance should they get the ball back, but that won't be enough.

7:20: Ivanovic sprays one over to Fabregas who has popped up in space inside the left of the box. The tries to poke a cross into the six yard area but the ball goes out of play before Lloris punched it away.

7:19: Five minutes of injury time added on.

7:18: Another one goes in! Tottenham are caught out by a quick free kick as Hazard rolls one across goal from the right where Terry is lurking to tuck one away.

Goal! Tottenham 5-3 Chelsea (John Terry, 87)

7:16: Hazard breaks into the box on another dazzling run, sidestepping the challenge of Walker before teeing up Salah six yards out from goal. The Egyptian however is unable to sort his feet out in time and the chance is gone.

7:14: Ramires is in behind the Spurs backline and from a tight angle lashes an effort across goal that is a yard wide from the far post. Good effort.

7:11: Fabregas and Vertonghen clashed a few moments ago and are involved in an incident again as the Spaniard clips the Spurs defender out towards the sideline. It was a genuine attempt to close down the ball, but the former Arsenal skipper is booked anyway.

7:10: 'We want six', the Tottenham fans chant.

7:09: Tottenham have a fifth! Again it comes down the left flank for Spurs as Chadli cuts in, striding past Ivanovic with ease. His shot takes a deflection off Terry, but the pace on his shot carries it past Courtois.

Goal! Tottenham 5-2 Chelsea (Nacer Chadli, 77)

7:07: Harry Kane is down for a few minutes after getting kicked in the back by Cahill.

7:05: What s save from Lloris! Hazard frees Azpilicueta in acres of space with a wonderful flick and the Spaniard arrows one across goal, heading for the bottom corner. The Spurs 'keeper however is down instantly to palm the ball around the post and maintain his side's two goal lead.

7:03: Mohamed Salah comes on for Willian as Chelsea line up a free kick following a high boot from Paulinho. Fabregas again wastes it but Mourinho's side keep the pressure on and win a corner.

7:00: Chelsea counter through Hazard who goes down in the box following a challenge from Fazio. Mourinho has gone mental on the sideline, but replays suggest the Spurs centre half got to the ball first. Hasn't quite atoned for his earlier error, but he certainly helped his cause with that.

6:58: Kane skips in behind the Chelsea defence to latch onto a through ball. He rounds Courtois but from a very tight angle he is unable to steer a shot on target and the ball rolls along the face of the goal.

6:55: Andros Townsend has endured a difficult second half and will now be replaced by Paulinho.

6:54: Spurs are now rocking a tad after Chelsea's second. They have been very sloppy in possession and are continuing to invite the away side forward.

6:52: Tottenham gift Chelsea a way back into this. Fazio is caught in possession about 30 yards out and invited Hazard to steal the ball and drive forwards. He plays a neat one two with Costa on the edge of the area and pokes home a precise effort on the return to pull a goal back for his side. Game on.

Goal! Tottenham 4-2 Chelsea (Eden Hazard, 60)

6:50: Fabregas wastes the free kick, failing to beat the first man but Chelsea win the ball back and loop it into Fabregas who has snuck into the left hand side of the box. The Spaniard however slams a woeful effort on goal over the bar.

6:47: Hazard bursts away from Eriksen and into the final third but has his legs clipped in the process. Cesc Fabregas will take the resulting free kick about 30 yards out.

6:45: And that's the first time Chelsea have conceded four goals under Jose Mourinho.

6:43: And it's four! It's an outstanding finish from Kane who is fed out on the inside left channel with his back to goal before spinning away from Matic and slotting a precise effort into the far corner.

Goal! Tottenham 4-1 Chelsea (Harry Kane, 52)

6:41: Ramires does well to shrug off the challenge of his marker and advance to the edge of the area before sliding a pass across the path of Hazard. The Belgian hits it first time but whacks a wild effort well over the bar.

6:38: Eriksen turns neatly and drives into the box. He keeps the ball under control but in the end there are just too many Chelsea defenders on the scene and he is crowded out.

6:34: And we are back underway for the second half at White Hart Lane. Just one change to bring to you with Ramires coming onto replace Willian for Chelsea.
HALF TIME

Tottenham 3-1 Chelsea

6:20: With the last kick of the half, Andros Townsend sweeps it into the bottom right corner! What an ending to that half from Tottenham.

6:18: Tottenham force Chelsea into an error with Kane getting to the ball ahead of Cahill in the box. He's brought down by the Chelsea man and Spurs have the chance to make it three!

PENALTY - Tottenham

6:15: Spurs have the lead just before half time! Eriksen springs away from his man and threads an excellent pass through for Chadli who has broken into the box. The Belgian hits across goal but sees his effort come back off the post, only for Rose to come rushing into to slot home the rebound, getting clattered by Cahill in the process.

Goal! Tottenham 2-1 Chelsea (Danny Rose, 45)

6:12: Chadli flicks one over the advancing Courtois and draws cries of anguish from the crowd as his shot comes back off the post, but the Belgian was offside anyway.

6:09: Willian tries his luck from the edge of the area but his shot cannons off a defender. The ball loops into the box for Hazard, who has stayed onside but he can't direct a difficult header on target.

6:07: Tottenham are nearly unlocked by a simple one two that frees Ivanovic in the box but Rose recovers well to win the ball back with an expert slide tackle. Spurs half clear and Kane relieves the pressure on his side, neatly sidestepping his marker before being cut down.

6:04: Rose overlaps down the left and wins a corner for his side. Spurs are suddenly up for this, but Courtois is out to comfortably collect the cross.

6:00: What a strike from Kane! The forward cuts across from the left, muscling Oscar off his shoulder before unleashing a poweful low drive towards the bottom corner. Courtois is stretching all the way but cannot get a hand to it and Spurs are level!

Goal! Tottenham 1-1 Chelsea (Harry Kane, 29)

5:57: And Chelsea come again with Costa and Hazard combining neatly down the inside right channel before finding Oscar in the box. The Brazilian stabs one towards the right corner but sends his effort wide.

5:55: Spurs are rocking a bit after that goal. Vertonghen is forced into a sliding challenge inside his own area to deny Oscar. Chelsea and Mourinho appeal for a penalty, suggesting the Belgian used his arm to block the ball while down.

5:51: Chelsea have the lead! Eden Hazard cuts in menacingly from the left, easily skipping past a rather lazy challenge from Rose. He draws Vertonghen in before lashing one across goal towards the far corner but is denied by the post! Oscar reacts quickest to the rebound however and slams a low effort goal bound where Costa is well placed to divert into an empty net.

Goal! Tottenham 0-1 Chelsea (Diego Costa, 18)

5:48: Chadli forces Courtois into a save with a neat overhead kick and Spurs apply pressure down the inside right channel.

5:46: Moussa Dembele has come onto replace the stricken Mason and will sit alongside Bentaleb in midfield.

5:44: Chadli shows great skill to step pasr Ivanovic but Cahill cuts across to help out and gets the ball back to Courtois.

5:41: Fabregas threads a ball through for Costa down the inside right channel but his effort is well blocked. Moments later Spurs have a problem with Ryan Mason struggling with a hamstring problem.

5:36: It's been a rather feisty start to the game with Diego Costa and Danny Rose colliding moments before Willian cuts down Chadli near the centre circle. No chances to speak of just yet.

5:30: And we are off and underway at White Hart Lane.

LINE UPS

Tottenham:Lloris, Walker, Fazio, Vertonghen, Rose; Bentaleb, Mason; Chadli, Eriksen, Townsend; Kane
Chelsea: Courtois; Ivanovic, Cahill, Terry, Azpilicueta; Matic, Fabregas; Willian, Oscar, Hazard; Diego Costa.
5:20: Our focus now shifts to White Hart Lane where Spus host league leaders Chelsea.

FULL TIME

Aston Villa 0-0 Crystal Palace

Hull 2-0 Everton

Liverpool 2-2 Leicester

Man City 3-2 Sunderland

Newcastle 3-3 Burnley

QPR 1-1 Swansea

Southampton 2-0 Arsenal

West Ham 1-1 West Brom
4:52: Into injury time in all of our 3pm kick offs...

4:50: Swansea pull one back! Ki Sung-yueng drifts across the edge of the box before looking inside for Bony who turns wonderfully to lift one into the back of the net.

Goal! QPR 1-1 Swansea (Wilfried Bony)

4:46: Ings brilliantly darts into the box but is stopped in his tracks, only for Boyd to collect on the edge of the area and sweep home. Stunning game at St James' Park.

Goal! Newcastle 3-3 Burnley (George Boyd)

RED CARD - Alcaraz (Everton)

RED CARD - Wayne Routledge (Swansea)

4:40: It's brilliant work from Ayoze Perez who jinks his way in from the left before clipping a ball into Adam Armstrong. The youngster scuffs his shot but Sissoko is well placed to hammer home and restore his side's lead.

Goal! Newcastle 3-2 Burnley (Moussa Sissoko)

4:34: Lampard nearly has a second following a wonderful volley but is denied by a stunning save from Pantilimon.

4:31: Minutes after coming off the bench Frank Lampard restores his side's lead, thumping hom Gael Clichy's cross from close range.

Goal! Manchester City 3-2 Sunderland (Frank Lampard)

4:28: Man City have done it again! After surrendering a 2-0 lead against Burnley last week they've allowed Sunderland back into this with Zabaleta crashing into Vergini to give the Black Cats a chance to equalise from the spot. Another former City player in Adam Johnson steps up and converts.

Goal! Manchester City 2-2 Sunderland (Adam Johnson)

Goal! Newcastle 2-2 Burnley (Danny Ings)

4:25: Sunderland pull one back immediately as Jack Rodwell scores against his former club, nodding home from a corner kick.

Goal! Manchester 2-1 Sunderland (Jack Rodwell)

4;23: Brilliant from Jovetic who deftly clips a neat effort home from Clichy's ball in from the left.

Goal! Manchester City 2-0 Sunderland (Stefan Jovetic)

4:20: What a comeback from Leicester! Nugent first of all smashes a wonderful half volley into the top corner after a chest down from Vardy, before Schlupp finds the bottom corner from 20 yards out. Mignolet didn't even move, what a response this half from Nigel Pearson's side.

Goal! Liverpool 2-2 Leicester (Jeff Schlupp)

Goal! Liverpool 2-1 Leicester (Dave Nugent)

4:16: Woeful defending from Arsenal. Debuchy cuts an uncomfortable pass back to his goalkeeper who opts to stab a clearance out, but it only reaches Tadic who slams home.

Goal! Southampton 2-0 Arsenal (Dusan Tadic)

4:12: What a strike from Yaya Toure! It's been an awful game so far but the Ivorian brings it to life with a thunderous effort from 25 yards out.

Goal! Manchester City 2-0 Sunderland (Yaya Toure)

HALF TIME

Aston Villa 0-0 Crystal Palace

Hull 2-0 Everton

Liverpool 2-0 Leicester

Man City 0-0 Sunderland

Newcastle 2-1 Burnley

QPR 1-0 Swansea

Southampton 1-0 Arsenal

West Ham 1-1 West Brom
3:45: Against his former club, Jelavic strikes, lifting the ball over the Everton goalkeeper after a clipped through ball from Abel Hernandez. Everton's defence is once again all over the shop.

Goal! Hull 2-0 Everton (Nikica Jelavic)

3:43: Tony Pulis looks on in delight as West Brom strike on the counter. Berahino starts the move, springing Segnesson clear who races up the other end before squaring back to the West Brom striker who sweeps home from 12 yards out.

Goal! West Ham 1-1 West Brom (Saido Berahino)

3:40: Another penalty for Liverpool as Danny Simpson sticks out a hand to block Coutinho's cross. Gerrard steps up and once again comfortably converts.

Goal! Liverpool 2-0 Leicester (Steven Gerrard)

3:37: Really poor goal for Arsenal to concede. Wojciech Szczesny is beaten to the ball by Mane who still has a lot of work to do. He clips a ball over the Arsenal goalkeeper but Per Mertesacker should really be hooking the ball clear, but can't manage to move his legs in time.

3:34: Everton have been poor yet again and have now paid the price as Elmohamady sneaks in at the far post to nod in Rosenior's cross.

Goal! Southampton 1-0 Arsenal (Saido Mane)

Goal! Hull 1-0 Leicester (Ahmed Elmohamady)

3:27: A great move from Newcastle sees Coloccini spray a ball out to Sissoko who swings a ball in from the left for Colback. The former Sunderland man catches it perfectly, and arrows one into the far left corner.

Goal! Newcastle 2-1 Burnley (Jack Colback)

3:23: A brilliant effort from Leroy Fer have given QPR the lead. The Dutchman collects a weak clearance on the edge of the area and proceeds to lash one past Lukasz Fabianski in the Swansea goal.

3:20: It's a horror show at St James' Park. Steven Taylor knocks a header back from a long ball up from Burnley that Dummett is on the end of. Rather than nodding the ball back to his own goalkeeper however, the fullback manages to lob his own goalkeeper with a looping header.

Goal! QPR 1-0 Swansea (Leory Fer)

Goal! Newcastle 1-1 Burnley (Paul Dummett, OG)

3:17: That's an odd call at Liverpool. Raheem Sterling plants a cross straight into the face of the hapless Wes Morgan and sees a penalty awarded for hand ball. Gerrard steps up and slots home, but Leicester will be rightfully annoyed.

PENALTY - Liverpool

3:15: Easy goal for Newcastle as Steven Taylor wanders in unmarked and nods in from five yards out.

Goal! Newcastle 1-0 Burnley (Steven Taylor)

3:10: West Ham score the first goal of the 3pm kick offs with Sakho netting his ninth in the Premier League, meeting Aaron Cresswell's cross with a diving header.

Goal! West Ham 1-0 West Brom (Diafra Sakho, 10)

3:05: Leicester come within inches of taking the lead at Liverpool as Riyad Mahrez connects with an inswinging cross but his effort comes back out off the post.

3:00: And we are off and underway in our 3pm kick offs.

2:50: Mario Balotelli is left out of the Liverpool squad today while Joe Hart has been left on the bench for Manchester City
3pm kick offs

Aston Villa v Crystal Palace

Hull v Everton

Liverpool v Leicester

Man City v Sunderland

Newcastle v Burnley

QPR v Swansea

Southampton v Arsenal

West Ham v West Brom

FULL TIME

Stoke City 1-1 Manchester United

2:32: And that resulting corner comes to nothing. Two minutes of time added on.

2:30: United mounting pressure in the final minutes. Januzaj floats a ball into the box towards Rafael, but off balance, the Brazilian lashes into a defender who clears a for a corner.

2:26: Rooney finds a yard of space out on the left to swing a cross into the box but Begovic comes out to claim. Of the two sides, you fancy Stoke to take a late winner here.

2:24: Jones concedes another stupid foul out on the right. Whelan whips it into the box but it is hoofed clear by Smalling.

2:20: Stoke in a succession of corners, all taken by Arnautovic. It's nervy for United, but De Gea takes command of the situation by collecting the ball.

2:17: Rafael da Silva comes onto replace the stricken Young.

2:15: Ashley Young pulls up mid-way into the chase for a routine ball with a suspected hamstring problem. Stoke show no sympathy and play on with United a man light but the move breaks down and Mata eventually knocks the ball out.

2:12: Stoke hit the post! A ball whipped in from the left finds Crouch who flicks it towards the far post but the woodwork denies him. Stoke apply more pressure from the resulting corner, allowing Diouf to hit a thunderous half volley from just inside the box that veers over the bar.

2:09: Wonderful effort from van Persie as he plucks the ball out of the air from a long ball from Mata, before dinking for the far post. It veers just wide of the woodwork.

2:08: Moments later Januzaj is released in acres of space down the left but his cross into the box is absolutely woeful. Not the best of starts from the young Belgian.

2:07: Somehow, Stoke aren't awarded a penalty. A ball comes in from the right that Crouch gets his head to, but its blocked by thr outstretched arm of Smalling. The referee however waves away their appeals.

2:04: Bizarrely, Radamel Falcao has just come off, replaced by Ander Herrera. Adnan Januzaj also comes onto replace Luke Shaw.

2:02: And this time Begovic collects with ease.

2:01: Mata whips it in the wind leaves Begovic stranded, but Stoke head clear. Moments later Phil Jones wins another free kick in an identical position.

1:59: Falcao drives at Muniesa down the inside right channel and wins the free kick for United.

1:55: Another attempted long ball is carried out of play by the wind. This game is a bit of an eyesore at the minute.

1:51: A much more comfortable start to the half this time for United, albiet without creating much.

1:48: And we are back underway for the second half.

HALF TIME

Stoke City 1-1 Manchester United

1:30: Another ball in threatens to free Diouf inside the left channel of the box but Smalling steps across to make a perfectly timed challenge.

1:27: Rooney lifts a neat ball over the top for van Persie but he can't quite get there ahead of the goalkeeper. van Perise is a bit miffed with Begovic in the aftermath and rightly, so the Stoke 'keeper needlessly kept a boot hanging in the air as the Dutchman ran in, cueing a bit of shoving between the two.

1:24: Diouf springs the United back line from another ball over the top and is free to shoot from the edge of the area but is ruled offside.

1:22: Rooney looks for the Hollywood ball, trying to spring Young free down the right flank but he can't keep the ball in play.

1:17: Arnautovic this time pops up on the left hand side and whips an outstanding ball into the box. Evans leaves it, but Shaw gets ahead of Crouch to hook it over the bar.

1:15: Stoke respond immediately forcing the pressure on United and winning a free kick out on the right flank. Arnautovic whips a dangerous ball and Cameron again shurgs off the meek challenge from Jones, but can't direct his header goal bound.

1:13: United are level! Rooney takes that resulting corner which is nodded on at the near post by Carrick. Falcao reacts quickest in the six yard area and diverts home.

Goal! Stoke City 1-1 Manchester United (Radamel Falcao)

1:11: Rooney slips a hopeful ball down the inside left channel but van Persie willingly chases it down and wins the corner.

1:09: Crouch takes another chance on another long ball, almost catching out Jones, but the Stoke Cty man concedes the free kick.

1:06: Another great chance for Stoke. A big ball over the top leaves Mame Biram Diouf one on one with Jonny Evans. The United centre half hesitates and Diouf shrugs him off the ball... but can only shank his effort over the bar from 10 yards out.

1:04: But the United captain whacks it over the bar from 30 yards out.

1:02: United advance but Rooney is cut down by the challenge from N'Zonzi. Free kick United.

12:59: United win another free kick but again Mata proceeds to find the waiting arms of Begovic. United keep the pressure on but Rooney's pass cannot find van Persie.

12:54: United win their first corner of the game but it is easily claimed by Asmir Begovic. They look very ucomfortable at the minute.

12:50: What a disastrous start for United. Crouch nods a corner across goal where Shawcross reacts quicker than Phil Jones to slam home from close range.

Goal! Stoke City 1-0 Manchester United (Ryan Shawcross)

12:40: Manchester United take on Stoke City at the Britannia Stadium to get us started on a packed New Years Day.
LINE UPS
Stoke: Begovic, Cameron, Shawcross, Muniesa, Pieters, Nzonzi, Whelan, Arnautovic, Walters, Diouf, Crouch
Subs: Bardsley, Huth, Wilson, Adam, Butland, Assaidi, Shenton
Man Utd: De Gea, Jones, Smalling, Evans, Carrick, Young, Rooney, Mata, Shaw, Falcao, van Persie
Subs: Da Silva, Januzaj, Lindegaard, Ander Herrera, Fletcher, Blackett, Wilson.