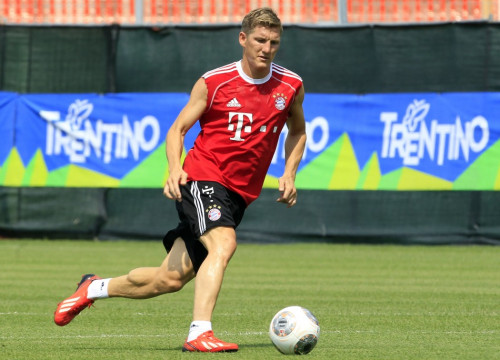 Bayern Munich midfielder Bastian Schweinsteiger has hailed the impact that his compatriot Per Mertesacker has had on Arsenal before their Champions League showdown on Tuesday at the Emirates Stadium.
Arsenal are currently second in the league, one point behind Chelsea and one ahead of Manchester City, with 13 games to play till the end of the season. The Gunners had owned the top spot for much of this season, but a couple of results where they lost 5-1 to Liverpool and a 0-0 draw with Manchester United has turned their season around and have left them chasing the league title.
However, the Gunners have proved that they are among the most defensively astute teams in the league, having kept 12 clean sheets thus far and much of the same has been achieved under the guidance of Mertesacker, who has developed a brilliant relationship with Laurent Koscielny.
Schweinsteiger and Merteacker will play opposite each other at the Emirates on Tuesday and the German veteran believes that it was only a matter of time since the former Werder Bremen player proved himself to be among the best in the country.
"For many seasons Arsenal have been admired across Europe for their attacking play – but perhaps where they sometimes let themselves down was in defence. Per has made them one of the most defensively solid teams in England," the German said.
"It was always going to take Per time to adjust to a new league – but now we see him for what he is which is one of the best central defenders in Europe with fantastic positional awareness and real leadership qualities," he added
Meanwhile, the midfielder believes that Arsenal will provide a bigger test this time around, having beaten them comprehensively last time at the Emirates.
"Arsenal have led the Premier League in England for a lot of this season – so we are aware it will be a very big test. We got a very good result in London last season – but I think Arsenal are much improved now. We want to retain the Champions League – and believe that another positive result in London is very possible if we play at the level we are capable of," he concluded.