Warner Bros and DC Entertainment have unveiled Batman: Arkham Origins Collector's Edition which is scheduled for a 25 October release across the UK.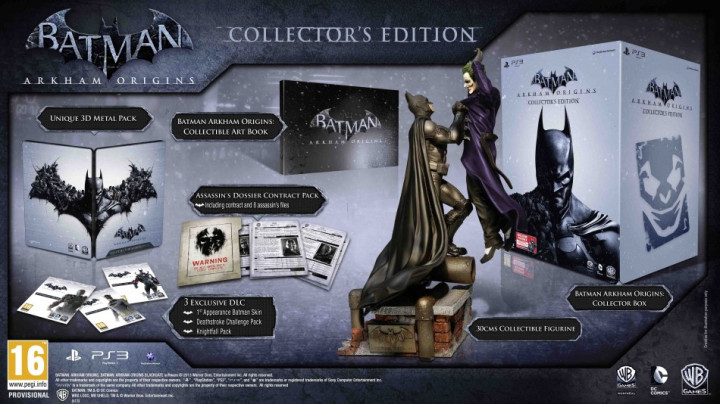 The Collector's Edition for North America is scheduled for release next week while the UK game edition will be released along with the regular game version, reports Eurogamer.
The UK Collector's Edition will be available in limited quantities for current-gen gaming consoles - Sony PlayStation3 and Microsoft Xbox 360 - according to the press release shown by Coming Soon.
The contents included in the Batman: Arkham Origins Collector's Edition for the UK are:
A Batman and Joker detailed statue.
Colour artbook of 80 pages.
Assassin's Intel Dossier which includes files of other eight assassins along with Black Mask's contract.
First Appearance Batman Skin DLC (Downloadable Content).
Deathstrock challenge DLC pack. This pack can be used across all the challenge maps in Arkham Origins. Two additional challenge maps and Deathstroke skins available.
Exclusive 3D metal Pack.
The PlayStation 3 users will get additional Knightfall pack.
Multiplayer Mode Released Previously
Batman: Arkham Origin Invisible Predator Online multiplayer mode was revealed by Warner Bros. earlier this month which is to feature Batman and his sidekick Robin.
The eight player mode gives gamers an option to become one of the members from Joker's or Bane's gang. The chief objective of the players is to secure a number of control points while facing off against Batman-Robin (AI controlled) and the other gang. The gang with more control points win.
The 3 vs 2 vs 2 multiplayer mode will be skipping Nintendo's Wii U consoles.
Price and Availability
The Collector's Edition (£79.99) and the Standard Version pre-orders are available on Amazon UK stores.
Standard Version
PlayStation 3 - £37
Xbox 360 - £35.99
PlayStation Vita - £30.99
PC - £28
Nintendo Wii U - £37.99
Nintendo 3DS - £30.99