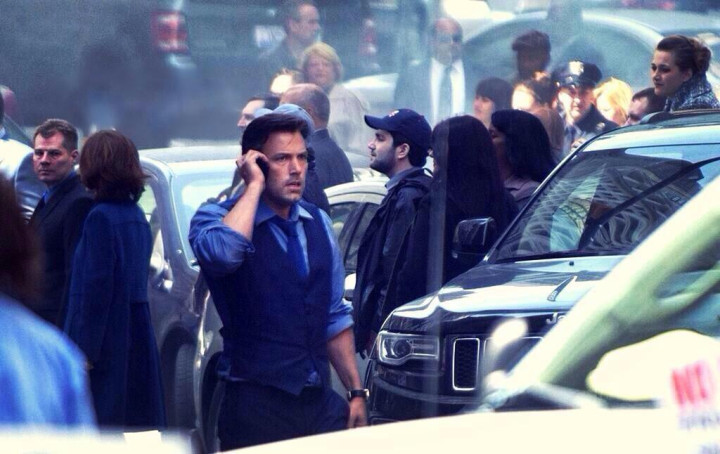 Ben Affleck was reportedly hurt while filming a sequence for Batman v Superman: Dawn of Justice.
The actor was sent home to recuperate after straining his body due to a complicated move using his left shoulder, according to a report in the Star. There are fears that Affleck's injury will delay filming.
A movie source claimed that, "It was hurting him pretty bad."
"He's putting his all into this role and it's pretty physically demanding. The trips to the gym are two, sometimes three times a day, and on-set, he's like a machine," the insider added.
A video shot by onlookers watching the action on the film set apparently shows 42 year-old Affleck nursing his left shoulder.
Another set video reportedly taken the following day shows a stunt double replacing Affleck as Bruce Wayne, to shoot a scene which involves him picking up a small child.
Watch the reportedly leaked Comic Con teaser trailer for Batman v. Superman: Dawn of Justice.
This is the second major injury suffered by Affleck recently.
Production on Batman V Superman was postponed earlier this year because of a skiing accident that hurt the former Daredevil star's ribs.
Batman v Superman: Dawn of Justice is the follow-up to 2012′s Man of Steel. Its release date was moved to 25 March 2016 to head off a box office clash with Captain America 3, which is due out on 6 May 2016.
Affleck recently paid tribute to Robin Williams, his co-star in Good Will Hunting.
"Heartbroken," Affleck wrote in a Facebook post. "Thanks chief -- for your friendship and for what you gave the world. Robin had a ton of love in him. He personally did so much for so many people. He made Matt and my dreams come true. What do you owe a guy who does that? Everything. May you find peace my friend."