Battle of Dunbar: Remains of lost Scottish soldiers identified in Durham mass grave
Skeletons discovered in a mass grave in Durham in 2013 have finally been identified as the remains of Scottish soldiers killed in the Battle of Dunbar, it was revealed yesterday (2 September 2015). The battle was one of the bloodiest and most brutal in the Third English Civil War of the 17th century. Researchers at Durham University said the remains – all males aged between 13 and 25 – had to be those from the Scottish Covenanter Army as this is the "only plausible explanation".
The Battle of Dunbar took place on 3 September 1650. In less than an hour, the English Parliamentarian army defeated the Scottish Covenanter Army, which supported Charles II's claim to the Scottish throne. Up to 5,000 people are believed to have been killed in the battle, with a further 6,000 Scottish soldiers taken prisoner. Around 1,000 men are thought to have died while being marched to Durham: some were executed, others died from hunger, exhaustion and dysentery. In total, around 3,000 soldiers were imprisoned in Durham Cathedral and Castle, both of which had been abandoned as a result of Oliver Cromwell's rule. It is estimated that 1,700 prisoners from the battle died and were buried in Durham – with experts believing many more burial sites will be found in the future.
The two mass graves unearthed in 2013 held the remains of up to 29 individuals. Since then, researchers have been carrying out tests to discover their identities. Initial analysis suggested they were those of the lost Scottish soldiers, but conclusive evidence required further analysis – radiocarbon dating initially showed a slightly earlier date of death than the Dunbar battle. However, new dating analysis and more bone samples have shown they died between 1625 and 1660. Evidence also showed several of them smoked clay pipes, commonly used in Scotland after 1620. All of the skeletons were males aged between 13 and 25, with isotope analysis showing they were likely of Scottish origin.
Taken together, the researchers say this strongly suggests they were prisoners from the Battle of Dunbar. Andrew Millard, senior lecturer with Durham University's Department of Archaeology, said: "Proving a theory in archaeology involves assembling lots of different types of evidence and piecing the jigsaw together so that we can make an informed assessment. When we had the results of the first radiocarbon dating tests we had a very broad date range and were not in a position to draw a definitive conclusion as to the identity of the skeletons, which is why we carried out further tests. "Taking into account the range of detailed scientific evidence we have now, alongside historical evidence from the time, the identification of the bodies as the Scottish soldiers from the Battle of Dunbar is the only plausible explanation.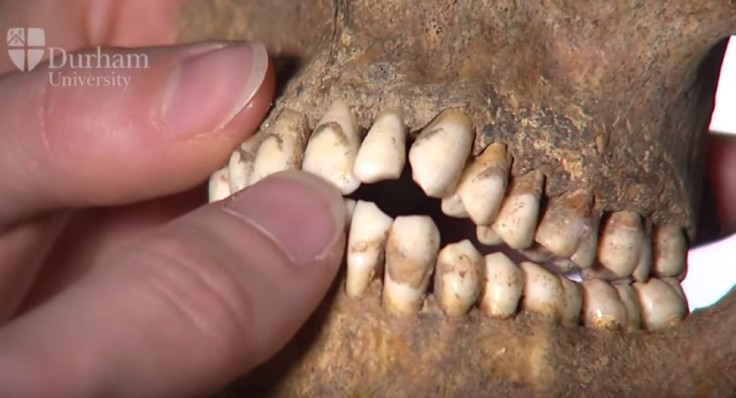 Richard Annis, senior archaeologist with the Archaeological Services Durham University, said: "This is an extremely significant find, particularly because it sheds new light on a 365-year-old mystery of what happened to the bodies of the soldiers who died. Their burial was a military operation: the dead bodies were tipped into two pits, possibly over a period of days. They were at the far end of what would have been the Durham Castle grounds, as far as possible from the Castle itself – they were out of sight, out of mind. It is quite possible that there are more mass graves under what are now University buildings that would have been open ground in the early to mid-17th century."
© Copyright IBTimes 2023. All rights reserved.