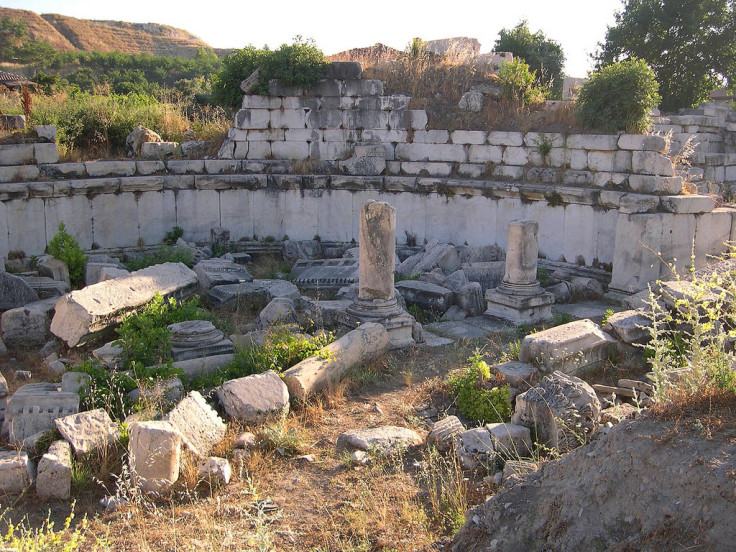 Dozens of mass graves dating back 3,000 years have been discovered during an archaeological dig at the ancient marble city of Stratonikeia in Turkey. At least 40 tombs have so far been unearthed at the site, with experts saying they expect to find more graves in the coming days.
According to the Hurriyet Daily News, the tombs were discovered as part of this year's excavations of Stratonikeia – which is listed on Unesco's tentative World Heritage Site list. Head of excavations Bilal Söğüt told the newspaper the ancient city contained remains from all periods of history, but the latest graves were found near an early-era Byzantine church.
Stratonikeia is one of the world's largest marble cities. Söğüt said excavations of the Roman bath and Western Street were continuing this year, along with the restoration of the Seljuk bath. He said they had reached all the structures in the ancient city, from the entrance gate to the emperors' temple.
"One of the most important gymnasiums of the ancient era is on the Western Street. Our goal was to unearth the street completely. But we have seen mass graves from the Byzantine era in the lower layers. We have found out that there is an early-era Byzantine church below the graves. This area was left after the church collapsed and began to be used as a graveyard," He said.
"There is not only one person in the graves; some are mass graves and include damaged bones. We estimate that the number of graves will increase in the coming days."
According to Unesco, the area was founded as a city in the Classical Period in the early 3rd century BC by Seleucid King Antiochus I. Ancient writers Herodotus and Pausanias make reference to a settlement at the site earlier, however. The city was built on a grid plan and its monuments were built in white marble. Eventually, after changing hands several times, it because a regional centre until the late Roman era, when it was a "lively, wealthy and active centre".
It was inhabited interruptedly for over 3,500 years and is thought to reflect interactions between different cultural and architectural elements from a variety of periods.