Yet another mass grave has been found at the planned site for Crossrail's Liverpool Street station. A burial site containing the remains of 30 people who perished at the hands of the Black Death was unearthed during the company's excavation of the Bedlam burial ground, which will be the site of the eastern entrance of Crossrail's Liverpool Street. It is set for completion in 2017 but will not open to the public until late 2018.
A headstone located near to the grave was marked with "1665" and archaeologists analysing the site say the bodies appear to have been buried on the same day. Coffins made out of thin wood that had collapsed over the centuries are "giving the appearance of a slumped and distorted mass grave", Crossrail described in a statement.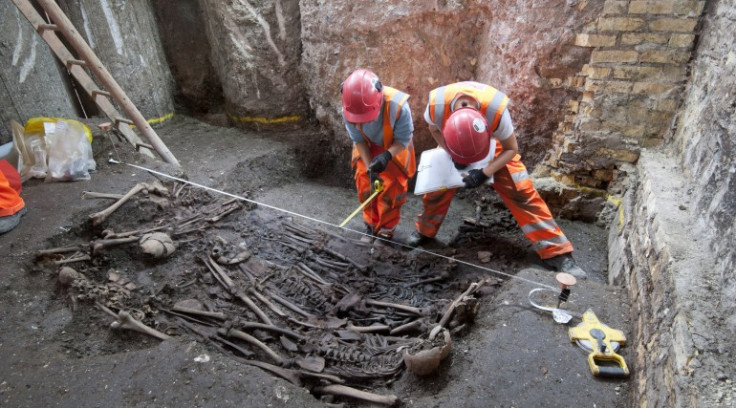 Jay Carver, Crossrail lead archaeologist, said: "This mass burial, so different to the other individual burials found in the Bedlam cemetery, is very likely a reaction to a catastrophic event. Only closer analysis will tell if this is a plague pit from the Great Plague in 1665 but we hope this gruesome but exciting find will tell us more about the one of London's most notorious killers."
The skeletons will now be taken by the Museum of London Archaeology (MOLA) for further analysis to confirm if the plague was responsible for the deaths.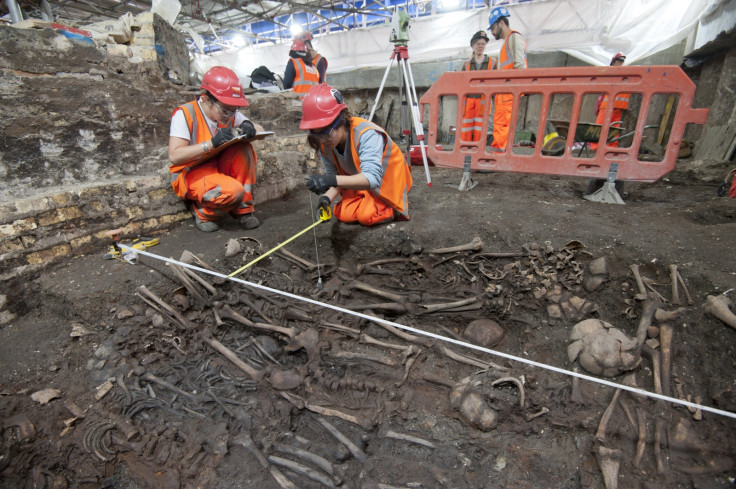 Mike Henderson, senior osteologist at MOLA, said: "The concentration of burials in this pit provides a new focus for scientific testing and study. We hope detailed osteological analysis will help determine whether these people were exposed to the Great Plague and potentially learn more about the evolution of this deadly disease."
The Bedlam burial ground has been discovered to have been the resting place of at least 3,500 people since excavation started earlier in 2015. Archaeologists from MOLA have described it as "London's most valuable 16th and 17th century cemetery site".
However, the recent excavation suggests 30,000 Londoners were buried there between 1569 and "at least" 1738 as civil wars, the Great Fire of London and the outbreak of several pandemics took their toll on the capital.