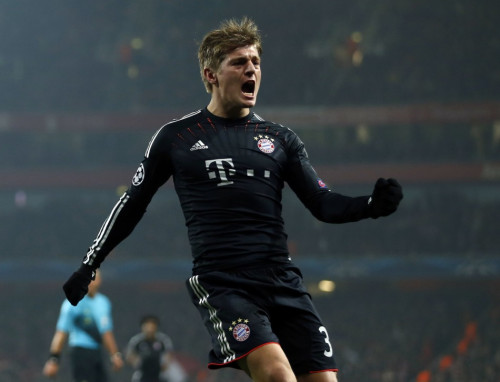 Bayern Munich manager Pep Guardiola has claimed that his decision to leave Toni Kroos on the bench in his side's last two games are not related to the German's contract situation or his possible move away in the summer, with Manchester United interested in acquiring his services.
After playing a key role in the first 18 Bundesliga games of the season, the German international was an unused substitute in Bayern's last two victories over Eintracht Frankfurt and Nurnberg, while the player expressed his frustration after being substituted against Stuttgart in the previous game.
Some reports have suggested his recent exile from the team is due to Kroos' refusal to sign a new contract at Bayern with just one year and a half remaining on his current deal, leaving Bayern with the prospect of selling him next summer or letting him go for free in 2015.
However, asked in a press conference why Kroos has gone from being a pivotal player to a bench warmer, Guardiola said: "Kroos was benched for tactical reasons."
"It is not the first time that a player is unhappy with one of my decisions. A player is always unhappy when he doesn't play. It's up to me to keep the situation under control.
"Toni Kroos has already done a lot for Bayern, not just for me, but for the entire team," the former Barcelona boss said.
Bayern are in talks to convince Kroos to commit his future to his current club but reports claim that should he not sign a new contract before the summer, they will consider selling him to recoup a transfer fee. United lead the race to secure his services while City, Chelsea, Arsenal and Liverpool have been also linked whith the player.
Indeed, Guardiola recently suggested that the midfielder may leave the team next summer.
"He is an important player for us but in football things can go fast. One day you are here and the next you are there..."
Meanwhile, Kroos recently insist that he is happy at the club despite his latest absences.
"I' am very happy to play at Bayern and my sporting situation as a starting player is very good. But the fact is also that as things stand we have not been able to agree on a new contract. However, since it (his current deal) runs until 2015, it is also not a big problem and we will see what the future brings."