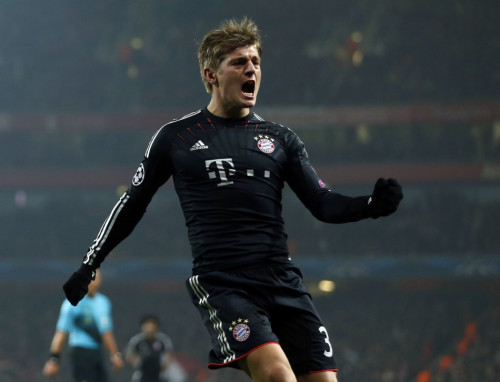 Bayern Munich manager Pep Guardiola has given a huge boost to Manchester United after suggesting that David Moyes' midfield target Toni Kroos may leave the team this January.
The 24-year-old midfielder is a pivotal player for the current Champions League holders but with just 18 months remaining on his contract reports claim that United may try to tempt him into a move to Old Trafford.
When asked in a press conference of the speculation regarding Kroos' uncertain future, Guardiola said: "He is an important player for us but in football things can go fast. One day you are here and the next you are there..."
After signing Juan Mata, reports last weekend claimed that Moyes' next target was the German midfielder and United officials were plotting a £25m offer to secure his services - especially following Michael Carrick's injury and Anderson's departure to Fiorentina.
Kroos has been ever-present in Pep Guardiola's side this season, appearing in all 17 of the club's Bundesliga games, but he has some issues with the German club regarding a possible contract extension.
The Germany international has already turned down one offer of a new deal from the Bavarian giants and reports have since claimed the club will refuse to match his salary demands.
Kroos himself recently refused to close the door to a potential move away from the Allianz Arena.
"I am unable to rule anything out. I am under contract with Bayern Munich. Actually there are yet no further talks (regarding a new contract) scheduled. I will therefore fully focus on the second half of the season
"There are worse situations in life. I play for a top club, and under a top coach. I am pleased, and sometime in the future a decision will be made," Kroos said.
With his contract expiring in 2015, the summer would be Bayern's last chance to claim a fee for the midfielder should the stand off continue, and Guardiola's latest comments suggest they are even willing to negotiate a deal during this transfer window.