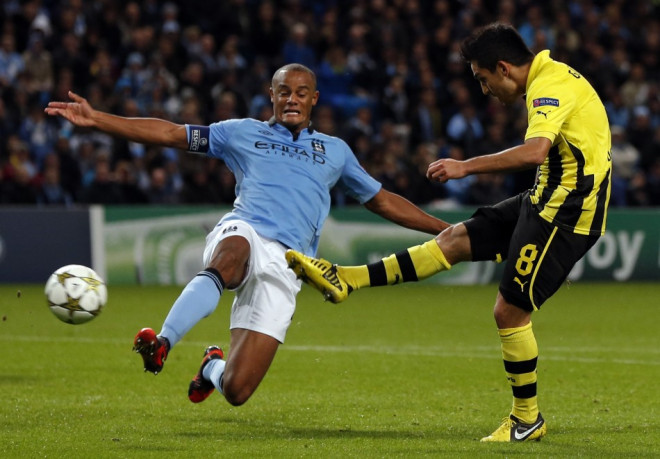 Manchester United could face competition from Bayern Munich in their attempts to sign Borussia Dortmund midfielder Ilkay Gundogan, reports in the German press suggest.
Having lured Mario Gotze from the Westfalenstadion last summer and with Robert Lewandowski due to arrive at the end the season, Bayern chairman Karl Heinz Rummenigge recently insisted the Bundesliga champions will not change their transfer policy of signing the best talent their arch rivals have to offer.
Reports in the German press led by FOCUS magazine suggest Bayern will soon return to Dortmund to enquire into the availability of 23-year-old Gundogan. The midfielder has not played for over six months due to a troublesome back injury that has derailed his season but is still considered one of Germany's finest options in midfield.
During his recovery he has also opted to put contract talks on hold with his current deal set to expire in 2015, a development that has heightened interest from Real Madrid, Barcelona and United.
FOCUS suggest Bayern envisage Germany international Gundogan as a possible long term replacement for Bastian Schweinsteiger, but any move for the Dortmund midfielder could hinge on the future of Toni Kroos.
Bayern's attempts to tie their midfielder down to a new deal suffered a blow earlier this week when the 24-year-old revealed he would not hold any discussions until the summer in order to concentrate on Germany's World Cup bid.
Despite the likelihood of the club missing out on Champions League football next season, Manchester United remain intensely linked with Kroos as reports suggest they are willing to make him the lucrative offer he desires.
Kroos turned down Bayern's first offer a contract renewal in January and is reportedly looking for a deal that will make him one of the club's top earners alongside Gotze and Schweinsteiger. Although the Germany international has previously insisted he is happy at the Allianz Arena, he recently admitted to Kicker that the size of his next offer will have some role to play in deciding his future.
"It does certainly not just revolve around money, that's not my character," he said.
"But of course it revolves around it too, otherwise I would be lying. We have been dealing with this subject for a long time and had not managed to come to an agreement by January."
United are understood to be keen on both midfielders but may have to wait until both make a decision regarding their future before making their interest formal.