Bayern Munich have released a defiant statement regarding the future of Robert Lewandowski amid reports of renewed interest from both Chelsea and Manchester United, insisting there have been no talks over the experienced striker to date and will not be any in the future.
Largely dormant speculation regarding a potential Bundesliga exit for one of European football's most prolific marksmen was reignited earlier on Wednesday (21 June), when Sky Sports' Guillem Balague reported that both aforementioned Premier League clubs had already spoken with his agent.
He claimed that London was Lewandowski's preferred destination, but that United were "very eager" to acquire his services and last held discussions yesterday.
The Poland international is said to be unhappy at the Allianz Arena and apparently feels that he was not offered enough support by Bayern and manager Carlo Ancelotti, particularly when it came to the race to be named as the German top-flight's leading scorer last season.
Lewandowski, kicker Torjägerkanone winner in both 2013-14 and 2015-16, missed out on the award by one goal last season after Borussia Dortmund counterpart Pierre-Emerick Aubameyang took his tally to 31 courtesy of a final-day brace against Werder Bremen.
His rival, who notched 43 times in total across all competitions, did not net in a 4-1 home win over SC Freiburg that saw the reigning champions bid emotional farewells to both long-serving captain Philipp Lahm and Xabi Alonso.
With Lewandowski once again becoming a hot transfer topic, Bayern have now released a statement to Sky insisting they unequivocally do not intend to negotiate with any potential suitors. They also issued something of a warning to any clubs who might be considering approaching the player directly, with his current contract not scheduled to expire for another four years.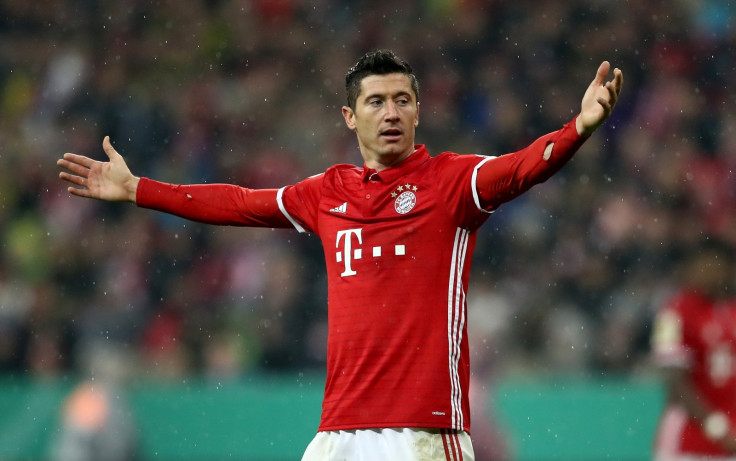 "Lewandowski's contract expires 2021, he signed it not long ago," Bayern said. "Lewandowski does not want to leave Bayern. There are no talks with other clubs and there won't be any. If other clubs negotiate with long time contract players they risk a FIFA penalty."
Both Chelsea and United are in the market for striking reinforcements this summer, with Antonio Conte signalling to Diego Costa that he is not in the former's plans for next season and Michy Batshuayi largely failing to impress during his maiden campaign in English football. Securing a return to Stamford Bridge for Romelu Lukaku seemed to be their chief priority, although an apparent reluctance to meet his £100m ($126.5m) valuation could lead to them looking elsewhere.
United, meanwhile, have provisionally released injured talisman Zlatan Ibrahimovic and are likely to say goodbye to skipper Wayne Rooney over the coming months. The Red Devils have also been heavily linked with Real Madrid's Alvaro Morata and Andrea Belotti of Torino.