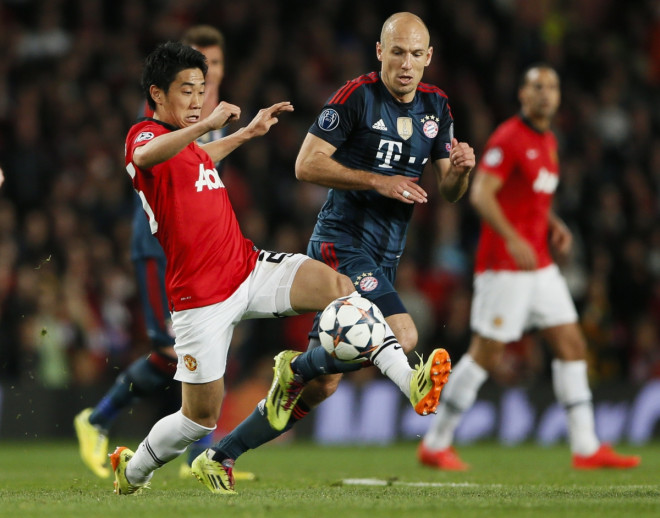 9:50: Atletico Madrid, Bayern Munich, Chelsea and Real Madrid remain in the Champions League and will learn their fate on Friday afternoon when the draw for the semi-finals is made. Join us then.
9:38: Manchester United gave Bayern Munich a real scare through Patrice Evra's wonderful strike, but it took them less than a minute to stamp out that elation. Bayern were just too powerful for United and they march onto the semi-finals, with United's Champions League hopes over for the foreseeable future. Elsewhere Atetico have sealed their place in the last four for the first time in 40 years with victory over Barcelona.
FULL TIME
Bayern Munich 3-1 Manchester United (4-2 on aggregate)
Atletico Madrid 1-0 Barcelona (2-1 on aggregate)
9:34: United have provided an excellent account of themselves against the best side on the planet over two legs, but they are desperate for the final whistle here now. Three minutes of time added on are nearly over.
9:31: Pizarro is teed up by Ribery inside the United box and his clever snap shot is on target, but straight into the grateful arms of De Gea,
9:29: Good work from Valencia down the right as he drags a ball back to the edge of the D where Rooney has emerged unmarked. A sweeps a shot on goal but it has no power on it and is easily blocked.
9:26: Hernandez plays a hopeful ball through the middle looking for Rooney but he's beaten to the ball by a red shirt.
9:24: Thomas Muller comes off for Claudio Pizzarro. Five minutes of normal time remain.
9:21: United are unable to get the ball off Bayern now, Danny Welbeck comes off and is replaced by Adnan Januzaj.
9:18: It's now mission impossible for United. Robben easily cuts inside past Evra and his left footed drive takes a deflection off Vidic, taking the ball just out of De Gea's reach as it rolls into the bottom corner.
Goal! Bayern Munich 3-1 Manchester United (Arjen Robben, 75)
9:15: United sub, Darren Fletcher off for Javier Hernandez. Nothing left for United to do but go for it at this stage; a 2-2 draw would see them go through on away goals. That's a hell of a lot easier for me to type than for United to do, to be fair.
9:13: Just ten minutes separated United's opener and Bayern's second and the away side looked to have awoken the beast as Bayern pour forward. Vidic makes a risky, but ultimately excellent sliding challenge on Muller down Bayern's inside right channel. Rooney scuffs the clearance from the resulting corner, but Bayern are relentless here.
9:11: Bayern have another! United failed to clear their lines after that previous scramble in front of their goal and Robben peels wide to retrieve. He looks up and drives a ball into the path of Muller from the right. Muller is being marked closely, but he expertly opens his foot up and diverts the ball past Dea Gea. 3-2 to Bayern on the night.
Goal! Bayern Munich 2-1 Manchester United (Thomas Muller, 67)
9:09: Time stood still as Dea Gea was unable to come out and collect a loose ball. Robben has the loose ball but it's blocked by a diving defender.
9:06: Incredible how quickly this contest has changed, it's as it has been over both legs at the minute. Bayern mount another assault and a neat interception from Kagawa on Robben gives them a corner. The first is dealt with, but Mandzukic rises dangerously for the second, but it sails wide of De Gea's post.
9:04: What a chance from Rooney! Welbeck chests the ball down the in the box and slides to his strike partner, but slightly off balance he mis-hits and an awfully meek effort rolls harmlessly for Neuer to collect. It's all happening at the minute.
9:01: Incredible. After some brilliant work from Antonio Valencia down the right the ball falls to Evra just on the edge of the area and he absolutely lashes a sublime half volley into the roof of the net from the D While United players are still lost in elation, Bayern march on goal from the restart and Mandzukic is on the end of a cross to nod a header past De Gea.
Goal! Bayern Munich 1-1 Manchester United (Mario Mandzukic, 58)
9:00: What a strike from Evra! United lead on the night!
Goal! Bayern Munich 0-1 Manchester United (Patrice Evra, 57)
8:58: Kagawa retrieves possession and advances unchallenged before pinging a shot on target from 25 yards out straight into the arms of Neuer. Moments later Valencia comes out looking worse for wear after a 50-50 challenge with Gotze.
8:56: Boetang lashes another effort well wide after the ball fell kindly to him on the edge of the area. Moments later Welbeck wins a free kick just inside the Bayern half but it doesn't come to much.
8:54: Rooney chases down a lofted through ball and it falls kindly to him down the inside left channel. He tries to lift it over his defender before hitting a shot but's read well by the Bayern defence.
8:52: Lahm is suddenly presented with acres of space down the right. He has time to look up and pick out a teammate but his low ball into the box is expertly read by Fletcher who diverts the ball out to safety.
8:49: Neuer unconvincingly punches clear but Smalling is down after unfortunately being at the bottom of a pile of defenders left in the wake of that cleared corner. After catching his breath he is back up.
8:48: Bayern leave a man off the back post as Rooney lifts the ball into that region and United win another corner, Boetang making the interception, I think.
8:47: United get us started for the second half and Welbeck bursts down the left and wins a corner.
8:40: United defending excellently so far but have mustered just one effort on goal at the Allianz Arena. They will need to change that to have any chance of dethroning Bayern this evening, who have struggled to break United down. Robben has looked particularly menacing for the home side but David de Gea remains untested.
8:38: Half time round up? Bayern possession. Robben run. Robben cuts in. Shot blocked. Rinse and repeat.
HALF TIME - Bayern Munich 0-0 Manchester United (1-1 on aggregate)
HALF TIME Atletico Madrid 1-0 Barcelona (Koke, 5, 2-1 on aggregate)
8:31: Boetang lashes a rubbish shot well over the bar and that's it for the first half.
8:30: Danny Welbeck does well initially in his own half to hook the ball back to Kagawa but he loses possession on the return pass, gifting the ball to Robben. Again, the Dutchman bursts into the United box, bobbing and weaving to work the ball onto his favoured left, but his effort is deflected out. Nothing comes of the corner.
8:27: Smalling does well to intercept another searching Bayern ball and Valencia rather riskily knocks the ball ahead of him in field with Ribery lurking. Valencia wins a foot race with the Frenchman and rather more sensibility hoofs the ball to safety.
8:24: The ball is sprayed out to Evra who has emerged on the left but the Frenchman is taken down by a sliding challenge from Lahm. It looked a foul on first viewing and on the second it certainly appeared that was the case. Play was waved on however until a United player hoofed the ball out of play for Evra to be checked over. He's soon back on his feet.
8:21: Kagawa is across the pitch to press as United win the ball in that tight right hand corner. He, Jones and Fletcher work the ball in a triangle but the Scot has the ball nicked off his toe by Gotze. Bayern march up field but their counter is stifled.
8:18: It's all been a bit toothless from Bayern so far as Welbeck hares back to get a foot onto a ball froim Toni Kroos. Carrick hoofs clear.
8:16: Rooney and Valencia do their best to press Bayern into making a mistake in the right hand corner of the pitch and eventually win a throw in. The same duo try to work something for themselves but Bayern stifle.
8:14: Vidic is shown the game's first yellow card for a challenge on Mandzukic. Very difficult to see what was wrong with that and the Serb is rightfully miffed.
8:12: Danny Welbeck is briefly held up to swap a boot that has been given him some jip. He returns just as Franck Ribery fires into the side netting from 20 yards, De Gea was largely untroubled by it however.
8:10: Robben again causes the hearts of United fans to skip a beat as he side steps Evra on his way into the box but his next pass is intercepted. Bayern haven't found their way through United yet with the away defence holding their shape well.
8:06: Scintillating stuff from Bayern as Gotze marches in from the left before sliding a ball into the bath of Ribery. The Frenchman dinks a first time ball into the path of Muller who has broke into the box but Evra is across to hoof the ball away. Even if the United full back hadn't been there it wouldn't have counted; Ribery was in an offside position when he played the ball.
8:02: Terrific stuff from Danny Welbeck as he sprints across to the side line where Boetang is looking is pick up a loose ball, but the United man's presence wins his side the throw in.
DISALLOWED GOAL: Antonio Valencia taps In at the near post from Rooney's dinked cross but replays show both he and Kagawa where in offside positions.
8:00: Robben finds space down the right after giving Kagawa the slip and digs out a cross at the by-line that Smalling does magnificently well to nod away on the stretch. The Dutchman picks up the loose ball and cutting across the box he lets fly with a shot on his left, but it's wide of De Gea's far post.
7:56: What a chance for Rooney! United finally get the ball off Bayern and a long ball finds Rooney with space to run in to in the final third. He picks up the ball with Dante standing off him just inside the box but dithers and his eventual shot is easily blocked. Kagawa picks up the clearance and steers the ball back into Rooney's path but he is penalised for a challenge on Dante.
7:55: Atletico have their early goal! Dreadful defending from Barcelona as a simple long ball catches them out. Adrian is through but his effort cracks off the bar back into the path of David Villa on the left. He cuts inside past his man, tees up Adrian who nods back to Koke who smashes his effort home to lift the roof off the Vicente Calderon!
Goal! Atletico 1-0 Barcelona (Koke, 5)
7:52: Great effort from Raul Garcia for Atletico Madrid! The midfielder lets a throw in drop down across his shoulder before unleashing a brilliant dipping half volley on the Barcelona goal, but it's just wide.
7:50: Smalling does well again, beating Mandzukic to the ball but Bayern get the corner. It's scuffed into Muller whose shot on target bounces out to Ribery on the edge of the area, but his effort is wide.
7:48: Dangerous from Bayern again as Kroos sprays the ball out to Lahm who has started in a very advanced position this evening. The cross is swung into the middle but Smalling does well up against Muller. After a clash of heads, the two are up and about again.
7:46: We are off and moments in Arjen Robben carries the ball through the heart of United for a good 40 yards unchallenged. The Dutchman slides the ball out to Ribery but his cross is overhit.
7:43: We are moments away from kick off as both sides make their way out at the Allianz Arena and the Vicente Calderon.
7:38: Despite not having Diego Costa avaliable this evening through injury, Diego Simeone remains confident of Atletico's chances this evening.
Due to his quality, the confidence he has, the way he supports his team, if you ask me if I prefer him to play or not I will answer I would. But I think Atletico have great football players that can do his job perfectly and we shouldn't think that if Diego Costa plays everything will be over for us or the opposite - that if Diego Costa doesn't play we will have many more options."
7:30: So what chance do United have this evening? Bayern are enduring something close to resembling a 'slump' in form at the moment, losing to FC Augsburg and drawing with Hoffenheim either side of their first leg meeting with United.
Their squad is at its weakest it's been all season with Bastian Schweinsteiger, Javi Martinez and Thiago Alcantara unavailable, with Toni Kroos dropping deep into a relatively unusual position as a holding midfielder. Manchester City, Arsenal and Chelsea have come to this ground and won in the past two years; United will not have a better opportunity of adding their name to that list than they do tonight.
7:23: A bit more on that Bayern bench weakened by the absences of Schweinsteiger, Thiago and Martinez. It includes 20-year-old striker Patrick Weihrauch, 19-year-old winger Mitchell Weiser and 18-year-old midfielder Pierre-Emile Hojbjerg along with 35-year-old Claudio Pizzarro and a 36-year-old Daniel van Buyten. Say it quietly now, but United might just have the stronger options off the bench.
7:16: Judging by David Moyes' pre-match comments, United will have their eye on an early goal this evening.
If we can make them chase the game that will suit us because we don't want to be chasing it.
What will progressing mean? It will mean a semi-final of the Champions League, let's see after the game if we can talk about that and we will do everything we possibly can." [via Sky Sports.]
7:14: Mario Gotze and Thomas Muller drop into midfield in the absence of Bastian Schweinsteiger and Thiago Alcantara with Toni Kroos sitting in an anchored position behind them. A look at the bench suggests that even Bayern's all-conquering squad strength has its limits; the Bayern boss is not blessed with great options should things go awry this evening.
7:07: So David Moyes has kept to his word and named Wayne Rooney in his starting XI tonight. The England international suffered a toe injury towards the end of the 1-1 draw in Manchester a week ago but after sitting out of the 4-0 win over Newcastle United, he has been given an injection and been cleared to help steer United into the semi-finals this evening.
He hasn't trained the whole week, but he's willing to have an injection before the game.
We haven't done anything wrong medically. He's a character. If he's determined to play, we'll let him."
LINE UPS
Bayern Munich: Neuer, Dante, Ribery, Mandzukic, Robben, Boateng, Gotze, Lahm, Muller, Alaba, Kroos
Subs: Raeder, Van Buyten, Rafinha, Pizarro, Weiser, Hojbjerg, Weihrauch.
Man Utd: De Gea; Jones, Smalling, Vidic, Evra; Fletcher, Carrick; Valencia, Rooney, Kagawa; Welbeck
Subs: Lindegaard, Büttner, Ferdinand, Giggs, Januzaj, Young, Hernandez.
Atletico Madrid: Courtois, Godin, Filipe Luis, Juanfran, Miranda, Tiago, Koke, Raul Garcia, Gabi, Adrian, Villa
Subs: Aranzubia, Mario Suarez, Rodriguez, Alderweireld, Insua, Sosa, Diego.
Barcelona: Pinto, Fàbregas, Xavi, Iniesta, Messi, Neymar, Mascherano, Bartra, Sergio, Alba, Alves
Subs: Oier, Montoya, Song, Adriano, Alexis, Pedro, Sergi Roberto
TEAM NEWS: Rio Ferdinand is replaced by Chris Smalling at centre half as Phil Jones moves out right. Wayne Rooney starts along with Shinji Kagawa. Mario Gotze comes into Pep Guardiola's starting XI.
6:50: We are also compellingly poised at 1-1 in our other quarter final tie waiting to be decided. A 1-0 win over Villarreal and a 3-1 win over Real Betis at the weekend ensure there is still daylight between Spain's top two in domestic matters, but something must give when Atletico Madrid host Barcelona at the Vicente Calderon this evening.
6:46: For eight minutes at Old Trafford last week, United led the champions of Germany and the champions of Europe. The pessimism that engulfed this quarter final from United's perspective lifted and even after Bastian Schweinsteiger's equaliser, there was reason for hope. It is small hope, but that is enough for David Moyes and his side ahead of their second leg clash at the Allianz Arena.
6:45: Good evening and welcome to IB Times UK's LIVE coverage of Wednesday's Uefa Champions League quarter-final action.