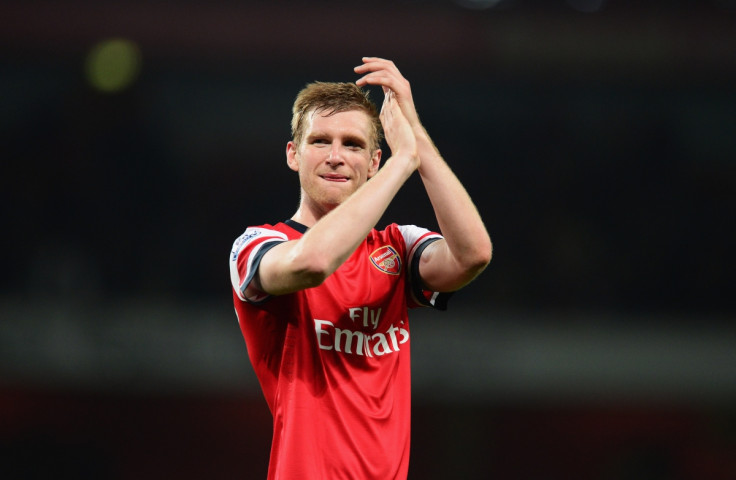 Arsenal defender Per Mertesacker is wary of Bayern Munich's desire to set the record straight at the Allianz Arena after being dealt their first loss of the season by the Gunners at the Emirates in the reverse fixture. The north London club hit the Bavarians on the break and scored two very important goals to give themselves a fighting chance of qualifying for the knockout.
The Gunners have been in imperious form coming into the fixture, with their only loss in October coming against Sheffield Wednesday in the fourth round of the Capital One Cup. That loss came with a very changed squad, as eight first-team players were rested to make way for youngsters. In contrast, their 3-0 win over Swansea last weekend portrayed a new-found resilience in the north London club, who are willing to dig out games when they are not playing at their very best.
Still, the Bayern fixture will be a different ball game for the Gunners, with Mertesacker confirming that their opposition will be angry and desperate to set things right after the result in the reverse fixture. Also, Arsenal are without eight of their first-choice players through injury. The injured include Theo Walcott and Aaron Ramsey, who started at the Emirates.
Mertesacker, who is familiar with the opposition, insists they need to outdo Bayern yet again to get anything out of the game. "They will be angry. We are the first team who really challenged them and beat them. They will be on the ball and try to show that they are back and better than us. They are clever, the Germans," Mertesacker said, as quoted by the Mirror.
Nonetheless, he was appreciative of their performance against Swansea, comparing their fortunes this time last season, when they were 15 points behind eventual Champions Chelsea. However, the tables have turned and it is Chelsea who now find themselves looking up at the top to locate Arsenal.
"In the last couple of years, we lost a few games here and there – especially away from home. But we are taking things really ­seriously," the German defender added. "Last season, the gap was already 15 points at this stage and now it's completely different. It gives us a reason to continue and be as efficient as we have been."