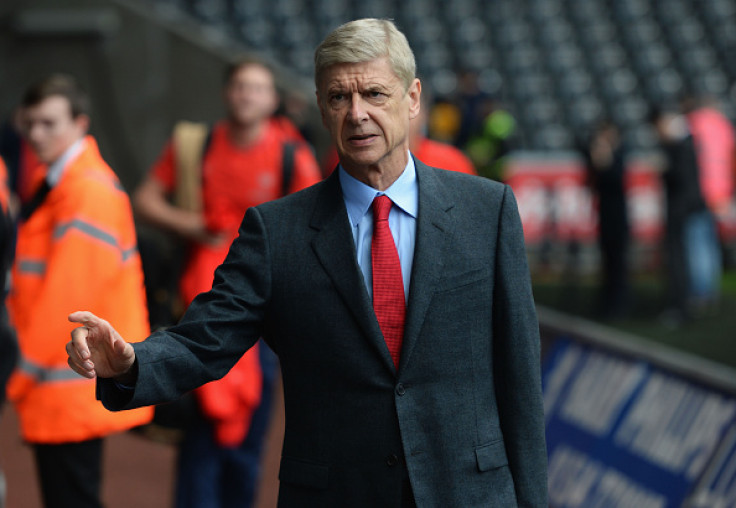 Arsenal manager Arsene Wenger has credited Swansea City for their performance, but believed that the Gunners were the more dominant with their pace and passing once they took the lead early in the second half. The north London club beat the Swans 3-0 at the Liberty Stadium on Saturday (31 October) to stay level on points with Premier League pacesetters Manchester City.
The South Wales club took the game to Arsenal in the first-half and should have deservedly gone into the interval with a lead. Bafetimbi Gomis had the best chance in the game when he was allowed to run clear at goal beating the offside trap, but the Frenchman, who has not scored since August, fluffed his shot, handing Wenger's team a major lifeline.
The 12-times FA Cup champions, however, changed gears after the interval, with Olivier Giroud opening the scoring just four minutes into the second half from Arsenal's first corner of the game. This was followed by goals from Laurent Koscielny and Joel Campbell, with the latter scoring his first league goal in his first start in the Premier League.
"It is always a difficult game, we were a bit edgy [in the first half] but in fairness Swansea showed quality again today. They are maybe going through a spell where they have less confidence but they are a good side," Wenger said, as quoted by Arsenal's official site.
"In the first half, it was difficult but in the second half we upped our purpose, our tempo and had more purpose in our passing, with pace in our combinations. Once we scored the first goal we were the dominant team and won the game normally."
Meanwhile, Garry Monk rued his team's defeat and admitted that the final score flattered the Gunners, as his team surely deserved more for their performance. He also indicated that the first two goals scored by Arsenal were gifts owing to mistakes from his players, but Wenger refused to get drawn into the debate, while agreeing that every time a team concedes a goal there are at least 'five' mistakes made by their players.
"Honestly in every goal you concede you have five mistakes on average. I didn't look too much at them honestly when we scored the goals, I would have to see them again," the French manager added.