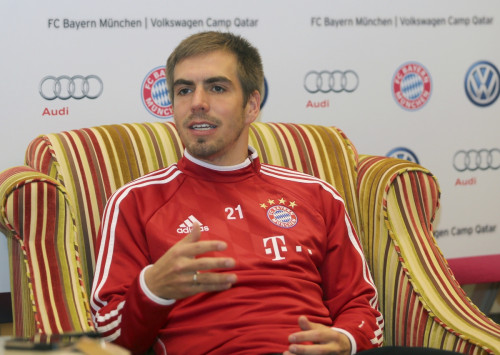 Bayern Munich captain Philipp Lahm says last season's Champions League defeat to Arsenal is a warning ahead of the resumption of the Bavarian's defence of their European crown.
The Gunners claimed a 2-0 win at the Allianz Arena last season, a result which proved in vein as Bayern progressed to the quarter final before eventually prevailing against Borussia Dortmund at Wembley in May.
But the closely fought nature of the tie which Bayern claimed on away goals after a 3-3 draw coupled with Arsenal's rapid improvement this season – which sees them within a point of the Premier League summit – means Lahm is wary of a repeat performance.
"That game [the 2-0 defeat in Munich] is a warning sign to us," Lahm told the Guardian.
"We had been very good in London, we thought nothing can happen to us in the return leg. All of a sudden you are 2-0 down and there are still some minutes to play. It shows that things can go really quickly in the Champions League. We will have that in the back of our minds.
"The biggest danger for us, right now, is facing Arsenal in the last 16. It's a tough draw. A lot can happen in those two games. It'll be two teams that are very good tactically and technically. I'm really looking forward to that game. I think every football fan is."
Though Bayern added the domestic double to the Champions League last season in the first ever German treble, under new boss Pep Guardiola the club have reached new heights and having stayed unbeaten in the league this season they are 16 points clear at the top of the Bundesliga.
Bayern claimed two crucial wins in London last season – their 3-1 win at the Emirates Stadium – and the Champions League final victory over Dortmund and even won on their last trip to English shores against Manchester City in this season's group phase.
Lahm admits Bayern prefer teams playing an open game and has identified this area as a possible weakness in the Arsenal rearguard.
"I follow Arsenal a bit more this year and they've left a good impression," the German international.
"They're fighting for the championship, that's not a coincidence: I believe they have developed as a team. They've become much stronger, the squad is more balanced. And they still play the way Arsenal always play. They want to have the ball, they like playing it short, and they have outstanding individuals.
"We have always found it easier, and still do, when the opponent plays football as well, when they don't just think in defensive terms, don't just sit inside their penalty box. It's just nicer when the opponent plays football. But let's wait and see. I hope they won't punish us by doing just that."