The BBC has today updated its home page, introducing an entirely new design with iPlayer content and rich images appearing front and centre.
The homepage - which attracts more than nine million unique users a week - is still in beta, but can be accessed by anyone at http://beta.bbc.co.uk and the BBC say it is seeking feedback from users before a final design is confirmed.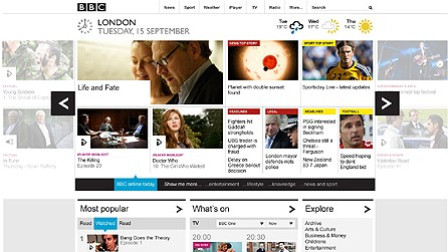 The redesign aims to give viewers a range of content at a glance and includes local weather and an image-heavy summary of the days' headlines, with links to iPlayer content appearing alongside the latest news.
The BBC announced back in January 2011 that the homepage, along with other products, would be updated as part of the Delivering Quality First programme.
General Manager of News and Knowledge, Phil Fearnley, said: "We've made improvements progressively to the BBC Homepage since it launched in 1997. The beta version launched today represents a real step change: we've rebuilt from first principles to deliver an intuitive experience which makes it easier for users to explore the wealth of BBC content on the web than ever before."
News appears on the first of three pages that form an interactive carrousel, with iPlayer content from television and radio taking a prominent stake in the 2nd and 3rd pages. The lower half of the new homepage shows the five most popular new stories, television programs and radio shows under the titles "Read", "Watched" and "Listened" - coincidentally the same three words expected to appear on Facebook buttons in an imminent update.
Image-lead links to content currently airing is also on the homepage, as well as a list of links to a wide range of other BBC content, including arts and culture, entertainment and sport.
The design features a plain white and grey background, with no sign of the usual corporate red, and almost every link is attached to a large image depicting the content. The BBC is clearly going for images over text in an attempt to speed up the process of finding what you're looking for.
The finished product will come out of beta later this year, along with optimised versions for mobile phones, internet-connected televisions and tablet such as the iPad.