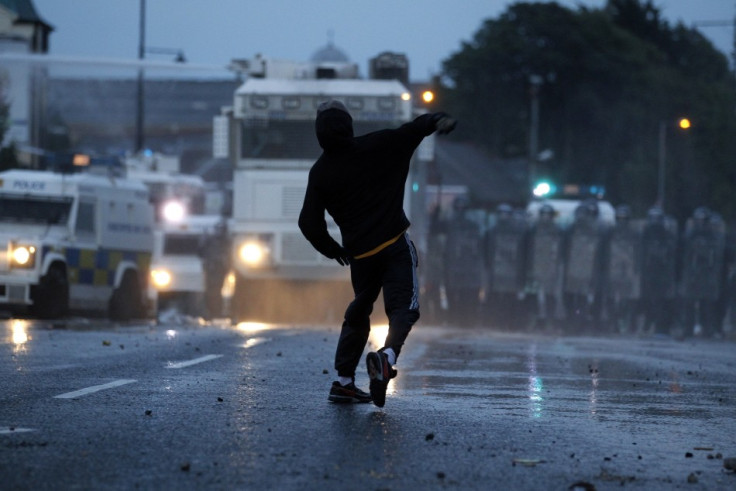 Belfast endured another a night of rioting as Catholic youths clash with police over the Orange Order parades. The parades that swept through a largely Catholic area of the Ardoyne district of Belfast were met by protests but riot police stopped any crowds from getting near to the parade itself. Riot police were attacked by hooded youths, some reportedly in their early teens.
Democratic Unionist MP Nigel Dodds has blamed 'militant Republicans' opposed to the peace process for organising a riot in Ardoyne which lasted into the early hours of Wednesday morning. Petrol bombs, bricks and slate tiles were thrown at police as cars were stolen and set alight in Belfast's North district, an area which has a history of sectarian clashes.
Riot police sprayed the rioters with water cannons and fire baton rounds into the 200 strong crowd in Brompton Park after they came under attack from the masked youths. Some officers were set alight briefly when they were hit with petrol bombs.
PSNI officers in riot gear were faced with another night of violence from Catholic youths. The trouble had been contained and limited at first but intensified as the evening went on. At one stage police warned people to take cover after there were unconfirmed reports that shots had been fired.
The Crumlin and Ardoyne Residents' Association, which is supported by Sinn Fein, staged a peaceful protest as the parade passed. They were joined by senior republicans including Sinn Fein Assembly member Gerry Kelly, Bobby Storey and Brendan McFarlane. 24 PSNI officers were injured during the disturbances in Broadway area of North Belfast and in the Old Park.
For a history of the Orange Order Parades click here