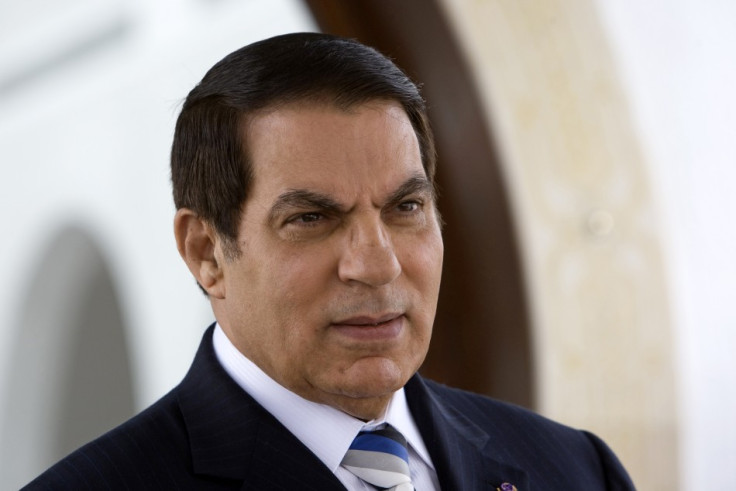 Tunisia's ousted president Zine el-Abidine Ben Ali said he was tricked into leaving his country for Saudi Arabia, as Tunisia begins to try him in absentia in the first of what are expected to be multiple trials related to his years in power.
Ben Ali said Monday in a statement issued by his lawyers that he had taken a plane to Saudi Arabia to bring his family to safety.
He claims he had planned to return to Tunisia immediately, but the plane's crew ignored his instructions to wait for him and left without him.
Is that the new beginning of a conspiracy theory? It will be interesting to see how the tribunal reacts to the leader's rather strange claims. It is difficult to see how the former president has failed to go back to Tunisia to face the authorities, as the latter would have undoubtedly been more than happy to arrange travels arrangements, had he contacted them earlier on.
Also, Saudi could have stepped in and helped the president return to his country by simply accepting the Tunisian request for extradition, which has until now been left unanswered.
Ben Ali went to Saudi Arabia in January amid mass protests against his 23-year rule and his there ever since. At the time, the Saudi statement confirming the arrival of the former president, certainly failed to mention his intention to go back to Tunisia: "Out of concern for the exceptional circumstances facing the brotherly Tunisian people and in support of the security and stability of their country... the Saudi government has welcomed President Zine al-Abidine Ben Ali and his family to the kingdom," the statement said.
Following his overthrow in January, the former leader is now being tried in absentia on charges that include embezzlement, money laundering, and drug trafficking while more are expected on charges that include conspiring against the state and voluntary manslaughter as in total, Ben Ali and his allies have 90 criminal cases pending against them.
Through his lawyers, Ben Ali denied the charges against him of illegally possessing drugs, cash, jewellery and weapons. He said the weapons were gifts from other heads of state and the jewellery had been given as gifts to his wife, Leila Trabelsi, by foreign dignitaries. The money and drugs had been planted in his home and the presidential palace after his departure as part of a plot against him, he added in the statement.
He also denies voluntary manslaughter as he said in the statement that "He did not give an order to fire on demonstrators and this can be proved through the contacts between the presidency, interior ministry and different ministries, which are recorded."
Ben Ali also gave his first detailed account of the events leading to his departure from Tunisia for Saudi Arabia on 14 January, ending his 23 years in office. At the time, thousands of protesters had gathered in the centre of the capital to demand he step down, accusing him of stamping out dissent while allowing his family to amass huge wealth and control the economy.
The statement said the head of presidential security had come to him in his office and told him "friendly" foreign intelligence services had passed on information about a plot to assassinate him. He was persuaded to board a plane that would take his wife and children to safety in Jeddah, but with the intention of returning immediately, the statement said.
"He boarded the plane with his family after ordering the crew to wait for him in Jeddah. But after his arrival, the plane returned to Tunisia, without waiting for him, contrary to his orders. He did not leave his post as president of the republic and hasn't fled Tunisia as he was falsely accused of doing," the statement red.
While there is nothing surprising about Ben Ali denying the accusations in block, his statement sounds fiercely one-sided. The grievances of his people are left out and brushed aside, as the uprising itself is not mentioned. Of course all the weapons and jewellery were gifts and the leader found himself stuck in Saudi against his will.....
Despite his attempt, Ben Ali will certainly have failed to come up with a remotely believable story and rendition of what really took place behind the scenes. However one person who is likely to be following the trial is Gaddafi, as he will be interested to know what might happen to him if he decides to flee as well.