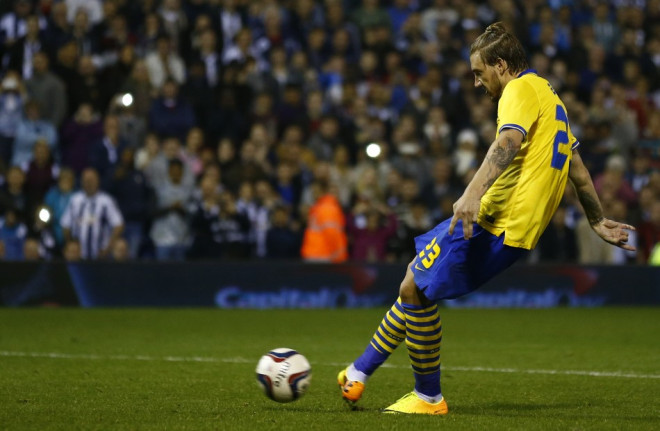 Arsenal striker Nicklas Bendtner has once again expressed his frustration over his lack of minutes at the Emirates Stadium, but the Denmark international believes that he can still convince Arsene Wenger to give him opportunities in the final months of the season.
The 26-year-old striker has started just one Premier League game this season, despite Theo Walcott's injury leaving the club with just one proven option up front in Olivier Giroud.
Recently Wenger has placed youngster Yaya Sanogo ahead of Bendtner in the pecking order, handing the French striker a starting role in the recent Champions League game against Bayern Munich.
And when asked after Denmark's 1-0 defeat to England about his situation at Arsenal, he said: "It is difficult when you only train, but I hope to play more obviously.
"I am trying to keep myself as fit and sharp as possible. You can train as much as you like, but there is a big difference between training a lot and playing games on a regular basis," Bendtner said as quoted by the Evening Standard.
"I could feel within myself that I have not played in a long time, but I am looking to make the change."
The striker has spent the previous two campaigns out on loan at Juventus and Sunderland and last summer he was close to ending his nine year spell in north London after recieving offers from clubs in the Bundesliga and Crystal Palace.
He finally decided to stay one more season but after another difficult campaign under Wenger he recently revealed that he is already planning an exit.
"It's not part of the plan to be at Arsenal after the summer." Bendtner said.
"I'll try something else. I've put a lot of thought into what I want, but the most important thing is to go to a place where I can get more playing time. I need to play more to also keep my place in the national team."