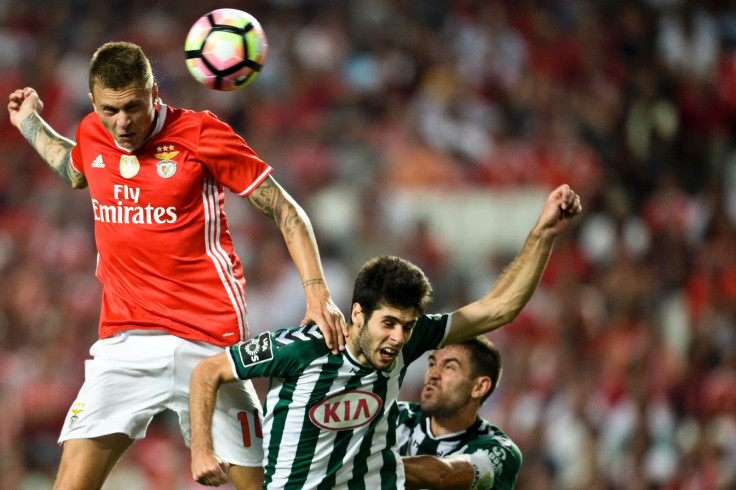 Benfica manager Rui Vitoria won't rule out the possibility of Victor Lindelof joining Manchester United during the summer transfer window, suggesting the club are prepared for a major exit.
According to Sky Sports, United have opened talks with the Portuguese giants to bring Lindelof, 22, to Old Trafford in the New Year in a £38m move. Benfica president Luis Filipe Vieira has also reportedly flown to Manchester this week to meet with United officials over the move.
Benfica are in action against Rio Ave in their final league game before the winter break on Wednesday. Speaking ahead of the match, head coach Vitoria insisted the club are prepared for any mid-season departures.
"If it happens to a player [leaving the club in January] we will be prepared and we will find solutions," Vitoria was quoted as saying in MaisFutebol. "This is, for us, more of the same, there is always the prospect of someone leaving and it does not have implications on our work.
"It could be anyone [who leaves]. Many of them have a lot of quality and are attractive in the transfer market. I predict very good careers for them."
Lindelof, 22, has grown into one of Europe's most in-demand defenders with Paris Saint-Germain and Inter Milan also credited with keen interest in the centre-half.
Ahead of the winter window, Lindelof's agent Hakan Cetinkaya was quoted as saying, by Portuguese publication Record, in December he had lined up meetings with several clubs across the continent, adding there is a "good chance" his client will leave Benfica in the New Year.
"The transfer window isn't open yet but Victor is already very much in demand. As a result, I have scheduled interviews with some of the biggest clubs in Europe to talk about his future.
"The most important thing is for the deal to be done at the right moment. But I am optimistic. There is a good chance he'll leave the club this winter. If not, it will be next summer."