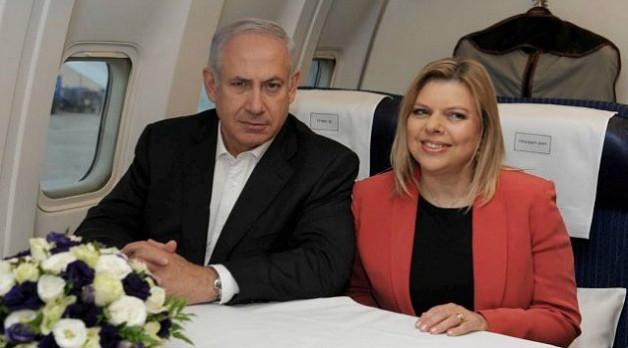 Israeli prime minister Benjamin Netanyahu had a £90,000 double bed installed on a plane taking him and his unpopular wife Sara to London, where they were attending Baroness Thatcher's funeral.
The revelation came as an estimated 15,000 Israelis took to the streets in cities across the country to protest against austerity measures outlined by Netanyahu's finance minister, Yair Lapid.
The public outcry over the so-called "rest chamber" on the five-hour flight threatened to engulf his administration on Sunday 12 May, with Netanyahu's aides struggling to limit the damage.
"The prime minister was not informed of the cost of installing the rest cabin," said a source close to the prime minister.
"Once he learned of it he issued an immediate order to stop installing such cabins on all future European flights, effective immediately."
However, officials had initially sought to defend the move, which was first revealed by Israel's Channel 10 on Friday. Netanyahu's office was immediately ridiculed after issuing a statement providing hour-by-hour details of his official duties.
"The prime minister took off for London on the night after Independence Day, in the course of which he attended a reception for outstanding soldiers at the presidential residence, the World Bible Quiz, a reception for diplomatic personnel in Israel and the Israel prize ceremony," said the statement.
"The flight was booked for midnight after a day full of events, and afterwards the prime minister was to represent the state of Israel at a number of official international events, including meetings with the prime ministers of Canada and Britain.
"It is acceptable for the prime minister of Israel to be able to rest at night between two packed days as those."
Israel's national airline El Al was paid £278,000 for the flight, including the cost of the chamber. A smaller plane without sleeping quarters would have cost £195,000, according to reports.
In contrast to Netanyahu's arrangements, Israeli president Shimon Peres, who turns 90 next month, took a seat in business class for his 11-hour flight to South Korea, Channel 10 pointed out.
In February, Netanyahu - popularly known as "Bibi" - was said to have been "unaware" of his £1,700 annual ice cream budget, which was also scrapped after details emerged.
Former TV personality Lapid's austerity budget, which will slash public spending while increasing the tax burden on the poor, will be presented to the Israeli cabinet this week.
It would cut public spending by £1.2 billion, raise income tax by 1.5% and increase VAT to 18%.
The largest of the protests took place in Tel Aviv, where thousands marched through the city chanting: "No future with Bibi and Lapid."