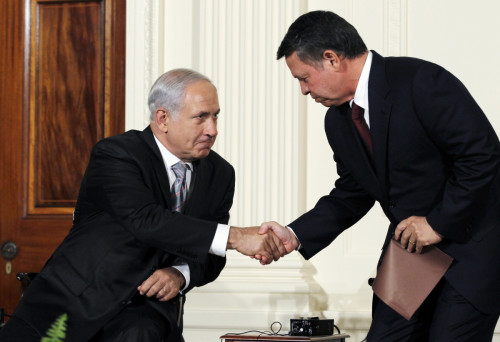 Israeli PM Benjamin Netanyahu has met Jordan's King Abdullah II to discuss US-brokered peace process with the Palestinians, according to Jordan Royal Palace.
The scope of the surprise visit it to hold talks behind closed doors about the "development in the peace process" and Israeli-Palestinians negotiations.
The Royal Palace Twitter account wrote:
The last meeting to discuss the peace process with the Palestinians was in March 2013.
Jordan, which has serene relations with Israel under a peace treaty signed in 1994, has been a quiet player in recent Israeli talks with the Palestinians.
Last year, Netanyahu also travelled to Amman to discuss Syria's stockpiles of chemical weapons and how to stop them falling into the wrong hands.
Last week, Israel's housing ministry announced plans to build more than 1,400 settler units in the occupied Palestinian territories of the West Bank and in East Jerusalem.
The announcement had been expected but was delayed after US secretary of state John Kerry concluded his visit to the region to broker Israeli-Palestinian peace talks that were rekindled in July after a three-year break.
A joint Israeli-Palestinian peace-building conference in a West Bank hotel was broken up by Palestinians who threw rocks and broke windows, forcing three dozen Israeli activists to be rushed to safety.