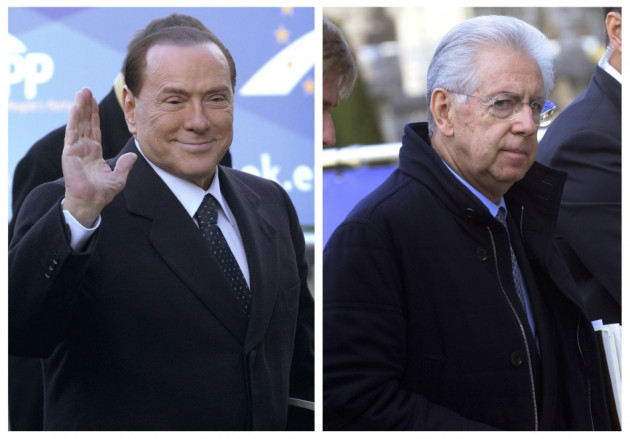 Hours after Italian prime minister Mario Monti said he is prepared to head a future Italian government, former PM Silvio Berlusconi described such a possibility as a "nightmare".
In an interview with Italian public TV station Rai Uno's Sunday afternoon show Domenica In, a livid Berlusconi launched a harsh attack against Monti and his lack of real-world experience.
"Tonight I had a nightmare and I woke up screaming," Berlusconi told the TV show host Massimo Giletti. "There was a new Monti government.
"Monti is a professor, he has never been in the trenches of work, he has never played a leading role in the economy. This government has already made too many mistakes."
The attack came after Monti refused Berlusconi's offer to lead a "coalition of the moderates," saying he was "dismayed" by the former prime minister's latest political actions.
"I struggle to follow his [Berlusconi's] line of thought, especially when it comes to approving or disapproving my government actions," Monti told a morning news conference.
"Yesterday he said this government's balance is a complete disaster; a few days earlier I read flattering comments on my personal following of a few days, other very negative remarks about my government made together with the generous offer for me to lead a coalition of the moderates.
"I don't get his thinking ... and that is why I couldn't accept his offer."
Monti's government of unelected technocrats was appointed by President Giorgio Napolitano in November 2011, as Berlusconi was forced to resign amidst a financial and economic crisis.
Italy is to hold elections in February, as Monti also resigned after Berlusconi's party pulled its support for the government. Monti's term was initially due to end in April 2013.
Monti has not yet made clear his future role in Italian politics. He said he will not stand for elections since he is already a life member of the senate and will not side with any party.
However he added he is ready to give his "advice, encouragement and if necessary leadership," to the political forces "that show convinced and credible adherence to the Monti agenda."
"I would also be ready to assume one day, if required by circumstances, the responsibilities that would be entrusted to me by the parliament," Monti said.