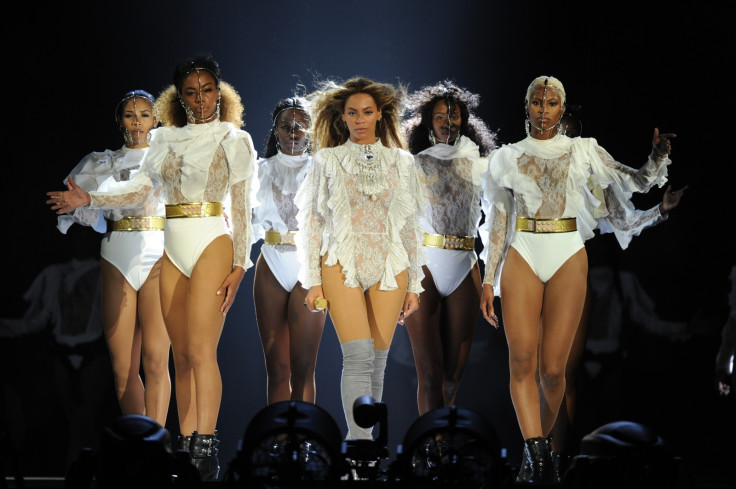 There is clearly no tension between Beyonce and her father Mathew Knowles. The singer has been pictured hanging out with the former Destiny's Child manager backstage on her Formation world tour in Houston, Texas, despite on-going rumours of a feud between father and daughter.
Surprisingly, it was Beyonce's mother and Mathew's ex-wife Tina Knowles Lawson who posted the image on Instagram with the caption: "Houston Concert proud dad!!!!" Both Beyonce and Mathew, 64, seemed pleased to be in each other's company with the Grammy-winning singer leaning into his chest. Mathew also got to spend time with his other daughter Solange Knowles and her son Daniel Julez. Tina, 62, also shared the image telling her followers: "Proud daddy and grandpa Houston."
Mathew watched his superstar daughter perform at the NRG Stadium in her hometown of Houston on 7 May. The photos put to rest years of claims that Beyonce had shunned her father after his divorce from Tina in 2011. During their separation, Mathew's infidelity was brought to light and he is said to have fathered other children outside the marriage. Tina is now happily remarried to TV actor Richard Lawson. They tied the knot on 12 April 2015.
On her new album Lemonade, Beyonce appears to address her upbringing and relationship with her father on the track Daddy Lessons, which includes the lyrics: "Daddy made me dance, and daddy held my hand, and daddy liked his whiskey with his tea." She also sings: "My daddy warned me about men like you, He said baby girl he's playing you/ Cause when trouble comes in town, and men like me come around, Oh my daddy said shoot."
Before the song begins, Beyonce recites the words: "Did he convince you that he was God?... Are you a slave to the back of his hand? Am I talking about your husband or your father?" In response, Mathew said on Sirius XM: "I can say I have never in my life hit my daughter. So she has never been a slave to the back of my hand because I didn't believe in that." He added: "[Lemonade is] probably [her] best body of work."
In 2010, Beyonce fired Mathew as her manager to take control of her career. Addressing their professional split, Mathew told The Sun in 2013: "This was not a normal ending of a business agreement. This was a dad and a daughter and it was incredibly painful and it had some difficulties. But I try to always have a positive mind about things and you got to do it the right way."
Beyonce's Formation world tour continues at the Commonwealth Stadium in Edmonton, Canada on 20 May 2016.