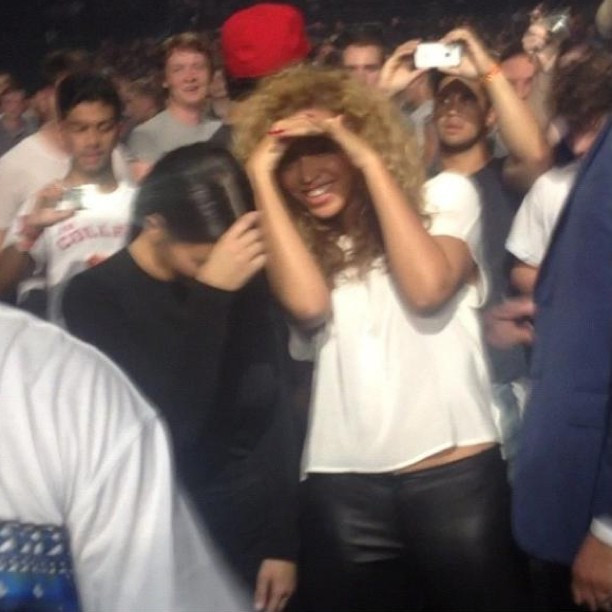 After months of reports that she was banned from Beyoncé's inner circle, Kim Kardashian spent some girlie time with queen B at a Watch the Throne concert.
According to MTV News, the unlikely pair were spotted dancing and having fun together as they watched Jay-Z and Kanye West perform at the Birmingham gig.
It had been rumoured that Beyoncé did not approve of West's budding romance with the 31-year-old reality star, but based on the photographs from the event, it seems that Beyoncé may have had a change of heart.
A source close to the stars told the Sun that West had played meditator in a desperate bid to get them to get along with each other.
The insider told the paper: "The girls have never really seen eye-to-eye. It's a shame because Jay-Z and Kanye are so close.
"Beyoncé has always viewed Kim as a reality TV star who's not earned her fortune with a specific talent."
The ladies are said to have bonded over dinner together ahead of the show by their respective significant others at the LG Arena.
"Kanye arranged a dinner in the hotel suite for the girls to clear the air. He's hoping that now they're pals it will lead to further get-togethers away from the tour. Beyoncé has now welcomed Kim into the clan," the source added.
It just goes to show that friendships can be found in the most unlikely of places.
IBTimes UK has a look at just a few reasons why Beyoncé and Kim should become new best friends.
Lots of double dates
With their men being best friends and business partners, the ladies will probably be spending a lot of time together.
It would also mean lots of double dates - as well as someone to complain about their men to.
Bootylicous buddies
These ladies are both famous for their curves so they will enjoy the perks of having someone that they can go shopping and share their outfits with.
Show me your friends and I will show you who you are
Kim shot to fame thanks to a much-publicised sex tape so it would be nice to have a well-respected person like Beyoncé as a buddy.
Beyoncé, loved for her killer performances, beautiful voice and strong work ethic, is also a very private person.
Maybe some of that can rub off on Kim.