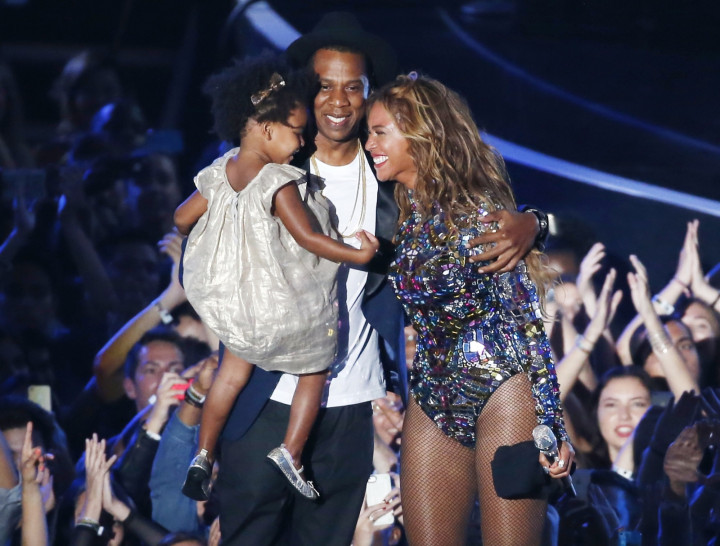 Divorce rumours have been haunting the music power couple Beyoncé and Jay Z ever since the infamous lift attack incident.
But Queen Bey finally put all rumours to rest in the most loving way during the MTV Video Music Awards.
The Crazy in Love singer gave a stellar performance on a medley of her own hit numbers during the award show. She was later greeted on stage by her husband and rapper Jay Z along with daughter Blue Ivy, who together presented her the Vanguard Award.
The Halo singer was visibly emotional when Jay Z called her "the greatest living entertainer" before handing her the award.
The award show, which is known for its on stage controversies, will be remembered for the sheer cuteness of the power couple's family moment.
Touched by the gesture, Bey hugged her husband and daughter and said "I'm so full," and called Jay Z "my beloved".
"I have nothing to say but I'm full with so much gratitude. I just thank God for this moment. I love y'all so much. Little Blue, I love you. My beloved, I love you. To my fans, I love you. MTV, I love you. Good night."
The Young Forever rapper gave a loving kiss to the pop queen with Blue Ivy in his arms and the family hug was just adorable.
This moment you can tell it meant everything to her #VMA2014 #BeyonceonVMA pic.twitter.com/AEodWNEcv2

— Chess Eli ♔ (@i_Chess) August 25, 2014
can I join this family??? ❤️ #toomuchlove #BeyonceonVMA #VMA2014 pic.twitter.com/8TVNHJSB1B — Adele McGinnigle (@adelemcginnigle) August 25, 2014
It appears, the Crazy in Love singer wanted to tackle the divorce rumours that plagued her personal life, in the most perfect way.
"Beyoncé wants to tackle the rumours in the best way she knows how: on stage," a source told Hollywood Life.
"During her performance, she is looking to do something to hopefully silence all the haters and the critics but, in true entertainment fashion, to make even more questions come out of it. She wants to make a statement that people will be talking about for a very long time."