DJ Khaled just dropped a major key. The hip hop producer has announced that he is joining Beyonce's upcoming Formation world tour as the opening act, describing the development as a "major milestone" in his career.
Beyonce, 34, will kick off the stadium tour on 27 April in Miami, Florida where DJ Khaled, 40, will entertain the sold-out audience with his collection of hit singles. Announcing the news on Instagram on 19 April, the acclaimed music producer told his followers in video: "They told me I would never tour. Now I'm on the Beyonce Formation Tour. Stadium alert! See you in a stadium near you."
He added in a lengthy written message: "Today I proudly announce a major milestone in my career. Today's announcement is a major accomplishment in my life. I want to thank the incomparable icon Beyoncé for this tremendous opportunity of a lifetime. Your music is the soundtrack to so many people's lives across the globe. Your legacy is a blueprint for the young generation to follow and strive to be. You are the true definition of a superstar."
DJ Khaled continued: "I promise you this! I'm gonna rip it down so legendary!!!!!! When I was a kid THEY told me no when I wanted to DJ and perform in the club! So guess what, I did!!! OPEN FOR BEYONCÉ!!!!!! Fan luv we did it! We made on the stage with the Queen. Get ready to feel passion pain success and tears of joy in a STADIUM NEAR YOU!!!!!"
The news should not come as too much of a surprise as DJ Khaled, full name Khaled Mohamed Khaled, signed to Roc Nation's management label, owned by Beyonce's husband Jay Z, in February 2016. Beyonce's Formation tour will perform 24 dates across North America visiting Nashville, Santa Clara, Houston, New York City and Toronto, Canada to name a few.
The jaunt will then head over to Europe for shows in Paris Milan, Barcelona, and two nights at London's Wembley Stadium in July, while extra tickets have been made available for the Sunderland performance on 28 June.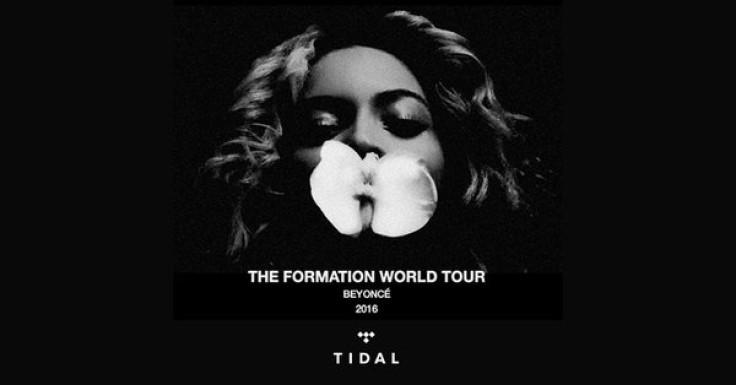 DJ Khaled is best known for producing the hit songs All I Do Is Win, I'm On One and No New Friends in addition to working extensively with the likes of Drake, Rick Ross, Nicki Minaj, Chris Brown and Kanye West. The New Orleans-native is currently working on his ninth studio album Major Key which is yet to be given a release date.
The producer has also become the king of social media with his Snapchat with his videos clocking up between three and four million each. DJ Khaled is also responsible for coining the now-popular hashtag "major key" or "major key alert", which has become a great promotional tactic for his forthcoming album of the same name.
In anticipation of the anticipated tour, Beyonce is set to premiere a new docu-style film on HBO titled Lemonade which fans are hoping will reveal tracks from her upcoming sixth studio album. However, USA Today reports that the one-off special will be similar to the singer's 2013 documentary Life Is But A Dream which aired on the cable channel before the release of her self-titled fifth album.
Listen to DJ Khaled's Hold You Down: