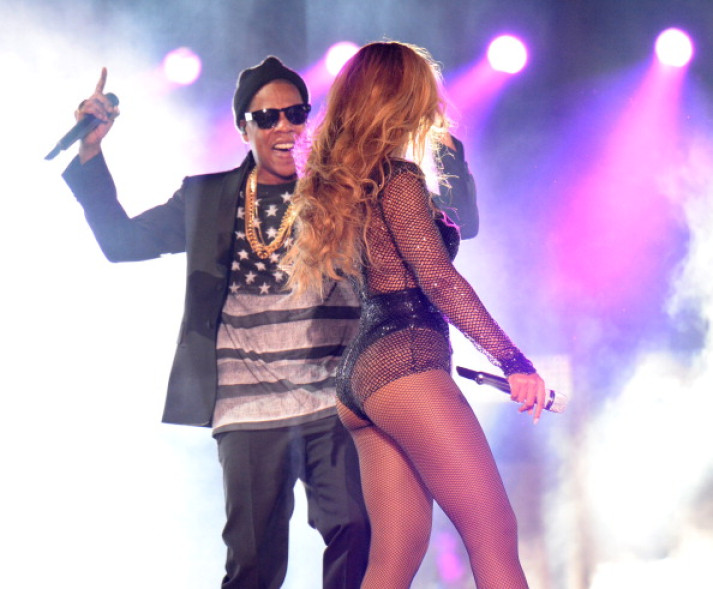 Beyonce turned up the sex factor as she embarked on the first leg of her On the Run tour with husband Jay-Z.
The R&B star showed off her svelte figure in an array of racy costumes in the sold-out opening show at the Sun Life Stadium in Miami, Florida.
The show opened with music's biggest power couple performing their duet Bonnie and Clyde.
Beyonce made a dramatic entrance swathed in a fishnet and leather body suit, complete with high-heeled combat boots.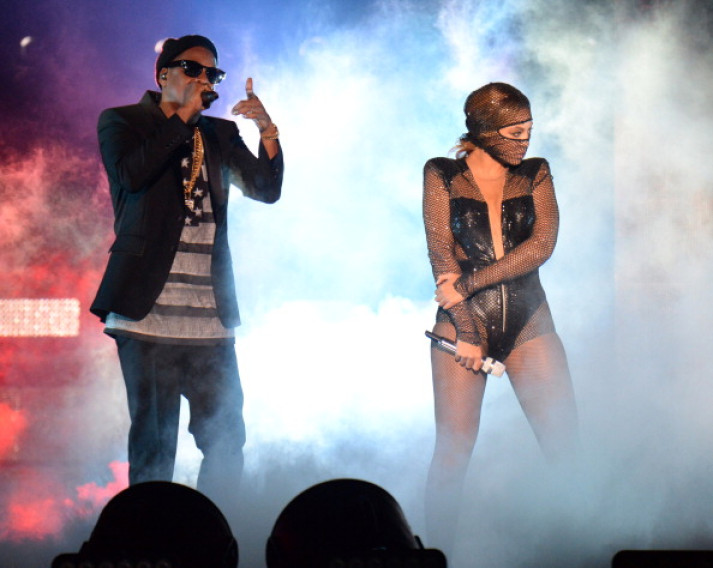 Her face was covered by a fishnet headpiece which she later removed, exposing her trademark long hair.
Jay Z wore a black blazer over a shirt emblazoned with the US flag, along with gold chain necklaces, and a black beanie.
The stage was then flooded in purple lights, smoke, and strobe effects for a rousing rendition of Crazy in Love.
It was Jay Z's turn to take over the stage as he segued into a performance of his single, Show Me What You Got, followed by his hits N****s in Paris and Tom Ford.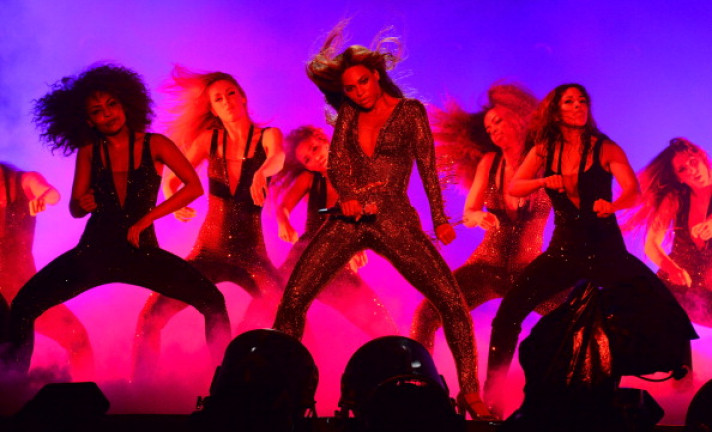 Returning after a quick costume change Beyonce belted out her hit, Who Runs The World? Girls.
Her eclectic stage ensemble included a black bodysuit with cut out panels, which daringly exposed her buttocks.
The 32-year-old stunned fans as she prowled across the stage in the bold outfit while singing her hit song Baby Boy.
She later changed made several costumes changes, into a leather ensemble, a pair of Daisy Dukes and a colourful fringed jumpsuit.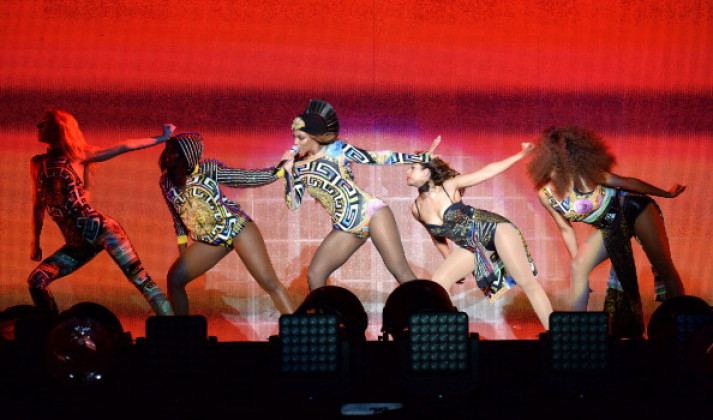 While the singer has stepped up the raunch levels since her Mrs. Carter Show world tour, which drew to a close in Lisbon, Portugal on March 27, the couple won rave reviews for the first gig of the tour.
Chuck Creekmur, CEO of AllHipHop.com, told USA Today: "Early on, it becomes apparent that this is a totally integrated performance. Sure, it gives Beyoncé time for her phenomenal costume changes, but the coordination is not just remarkable, it's the absolute best way that two of the world's best performers can deliver a show that proves why they're on top together.
"People are definitely infatuated with them as a power couple, first and foremost. A lot of people look at them as a royal family of sorts and idealize them in a lot of ways to represent true love and a fairy tale coming true."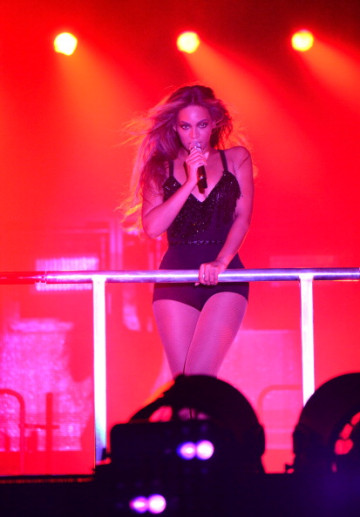 The couple also gave fans a rare glimpse into their personal lives, with footage of their two-year-old daughter Blue and never before seen clips of their wedding.
Each concert of the 21 date tour features over 40 songs. They will travel across the US with the tour and will perform two shows in Paris in September.
Beyonce wrapped her one year long Mrs. Carter Show World Tour in March, which became the most lucrative female tour of 2013. Jay Z wrapped his Magna Carta World Tour in January.