We typically do not mind when a smartwatch is given permission to track fitness data or calorie intake – but would you be comfortable letting it monitor your every move? This week (4 September), scientists revealed a new "self-learning" algorithm designed to do just that.
Experts from the University of Sussex teased a machine learning breakthrough which can "detect and record" daily activities in real-time without being told beforehand what to analyse – a concept which could be used to revolutionise healthcare and consumer behaviour research.
Current smartwatches use sensors to help track human activity, but still lack the ability to accurately account for interruptions in motion, for example.
The new algorithm, scientists said, will pay closer attention to "transitioning" in order to better understand routines and tailor alerts to the wearer.
In theory, all activity could be recorded – from brushing your teeth to doing the laundry to making breakfast.
Experts said that the algorithm could even be used to track humans when they are lying down or sitting still.
But it remains unknown if any major brand will incorporate the idea.
"Current activity-recognition systems usually fail because they are limited to recognising a predefined set of activities, whereas of course human activities are not limited and change with time," commented Dr Hristijan Gjoreski, a scientist at the University of Sussex.
"Here we present a new machine-learning approach that detects new human activities as they happen in real time, and which outperforms competing approaches."
In one example, Gjoreski said it could be used to track the activities of assembly workers by monitoring a sequence of actions and reacting if a step in the chain is missed. In healthcare, the technology could be used by the elderly to track drug intakes or daily routines.
According to The Telegraph, experts said the algorithm will be commercially viable within four years.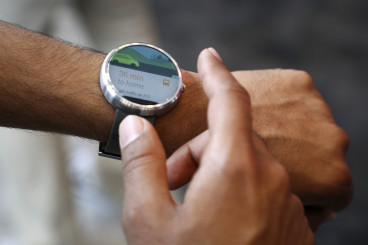 "Future smartwatches will be able to better analyse and understand our activities by automatically discovering when we engage in some new type of activity," said Dr Daniel Roggen, head of the Sensor Research Technology Group at the University of Sussex.
"This new method for activity discovery paints a far richer, more accurate, picture of daily human life," he continued.
"As well as for fitness and lifestyle trackers, this can be used in healthcare scenarios and in fields such as consumer behaviour research."
Roggen is set to speak about wearable technology at the British Science Festival in Brighton on 6 September. In addition, the full research about the algorithm will be published at the International Symposium on Wearable Computers in Hawaii, USA, which kicks off on 11 September.
Like many technological innovations, it will inevitably come with myriad privacy concerns.
Who would be tasked with storing such data? Would it be encrypted? What protections would be in place to ensure that the daily routines of users are kept out of the hands of hackers? Before it is adopted by major brands such as Samsung or Apple, these would have to be addressed.
In March this year, the UK National Crime Agency (NCA) warned that consumer fitness trackers and smartwatches will soon become a major target for digital crooks. Some, it said, would start to attack wearable technology with malware and ransomware if their popularity continued to grow.