Mark Zuckerberg's claim that getting the world online will be "one of the most important things we do in our lifetime" is a joke according to Microsoft co-founder and chairman Bill Gates.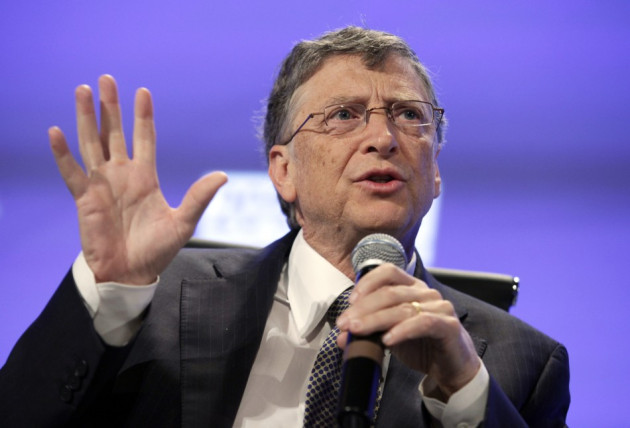 The Microsoft co-founder said he "certainly loves the IT thing," but has reservations about Silicon Valley's desire to help the world by bringing the internet to some of its poorest countries. "When we want to improve lives, you've got to deal with more basic things like child survival, child nutrition," the 58-year-old explained in an interview with the Financial Times.
In August, Zuckerberg, along with Samsung, Nokia, Ericsson, Qualcomm and other technology companies announced Internet.org and its goal of bringing the internet to the five billion people not yet online. The Facebook founder described this aim as "one of the most important things we will do in our lifetime."
But Gates disagrees. When asked if giving the whole world an internet connection is more important than his foundation's goal of curing malaria, Gates said: "As a priority? It's a joke."
The world's second-richest man and Harvard dropout continued, sarcastically: "Take this malaria vaccine, [this] weird thing that I'm thinking of. Hmm, which is more important, connectivity or malaria vaccine? If you think connectivity is the key thing, that's great. I don't."
Referring to technology more widely, Gates adds: "The world is not flat and PCs are not, in the hierarchy of human needs, in the first five rungs."
Richard Waters of the FT states that, after the interview, Gates' "minders" called to try and persuade the reporter to omit the technology icon's comments on Zuckerberg. "As a senior statesman of the tech and philanthropic worlds, it doesn't help these days to pick fights," Waters observes.
Eradicating polio
Run with his wife, the Bill & Melinda Gates Foundation made polio eradication a priority in 2008, after seeing global efforts to wipe out the disease had gone off course, as a decade of progress had failed to reach the global coverage and momentum needed to push for extinction.
Gates says the organisations involved in these efforts had "sort of naively assumed it was on track, but it wasn't. The idea that business as usual was going to get us there - it has to be broken out of that [way of thinking], because it wasn't going to succeed.
"It probably would have been better to just give up than do business as usual. But that would have been horrific."
Now his foundation has stepped in to help beat polio, Gates says partly removing the disease is no good and only complete eradication, as has been accomplished in India, will be enough.
"Eradications are special. Zero is a magic number. You either do what it takes to get to zero and you're glad you did it; or you get close, give up and it goes back to where it was before, in which case you wasted all that credibility, activity, money that could have been applied to other things."
From Microsoft to Polio
After stepping down as CEO of Microsoft in 2000, Gates to this day retains the position of chairman and will play a key role in securing a replacement to current chief executive Steve Ballmer. Gates dedicates one day a week to the company, holds regular meetings with some of the company's product groups, and expects to spend time working with Ballmer's replacement.
In switching from world-beating computer giant to disease-beating philanthropist, Gates has had to change his approach to business and management. "I was kind of a hyper-intensive person in my twenties and very impatient. I don't think I've given up either of [those] things entirely. Hopefully it's more measured, in a way."
Explaining how he has changed, Gates recalls a meeting when his foundation's work with polio was suffering. Gates told his workers: "'Hey, this is not good thinking, this is not good, this is not going to get us there'."
Once he had calmed down, Gates spoke to his wife Melinda: "I said...was I too tough on that, who should I send mail to, was that motivational, de-motivational? It's all a matter of degree."