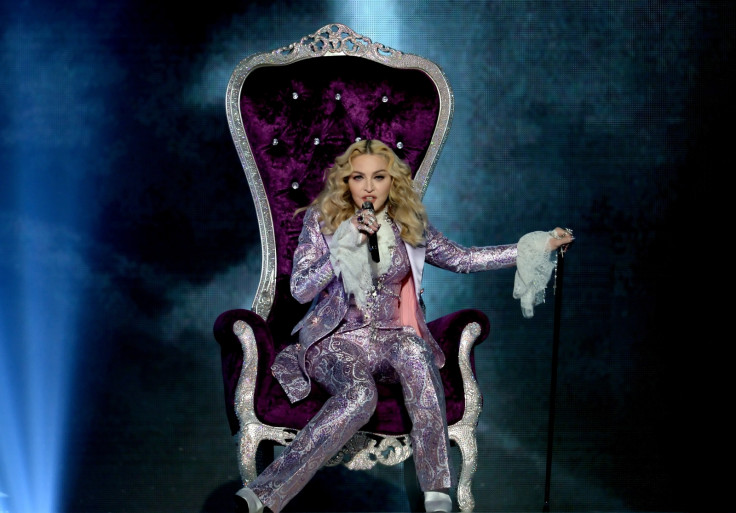 Prince, the legendary singer, died a month ago, but the world can't seem to get over the musical genius. To honour him, Madonna, the singer's long-time friend and a pop-diva herself took centre-stage at the 2016 Billboard Music Awards as she performed an emotional tribute to the late singer-performer.
The Purple Rain singer was remembered by the Queen of Pop on the BBMAs stage as the songstress sang her rendition of Nothing Compares 2 U. Alluding to Prince's memorable outfit, the Like A Virgin hitmaker even donned a glittery purple suit when she took to the stage atop a rich purple-hued throne. Indeed, the 57-year-old singer looked elegant on stage, but fans on Twitter seemed to be divided when it came to her performance.
Some die-hard Prince lovers even opined that Stevie Wonder, who joined Madonna for the tribute, was responsible for saving the day.
"Stevie is incredible, cuz he just bailed madonna out for real. we really didn't need her if we had Stevie, (sic)" a fan tweeted. The duo sang a chorus to Purple Rain that clearly touched the audience at the BBMAs.
Several Twitter users expressed their opinion about Madonna's tribute, with some suggesting that the performance was emotional and stirring while others saying it was "a horrific flat version" of the music. Right from the controversial singer's choice of paisley-printed purple clothes to the quality of her music, everything was scrutinised by fans on Twitter.
A user took to the micro-blogging site to say, "Was anyone else insulted by Madonna's choice of clothing for the Prince tribute tonight? I hate that outfit on her..."
"This #PrinceTribute feels like my grandmama died and the funeral home put the wrong wig on her...just tragic man #BBMAs," another user tweeted.
Incidentally, Madonna's BBMAs special tribute to Prince was even compared to a recent feat by Lady Gaga during the 2016 Grammy Awards. Unlike Lady Gaga's medley of David Bowie songs in honour of the singer, Madonna stuck to her rendition of Nothing Compares 2 U. "@LadyGaga can hold her head high again cause the worse tribute to a dead legend now belongs to @madonna, she has finally bested her #BBMAs," shared a Twitter user criticising the performance.
Here are some more tweets from fans, who expressed their thoughts on Madonna's tribute to Prince: