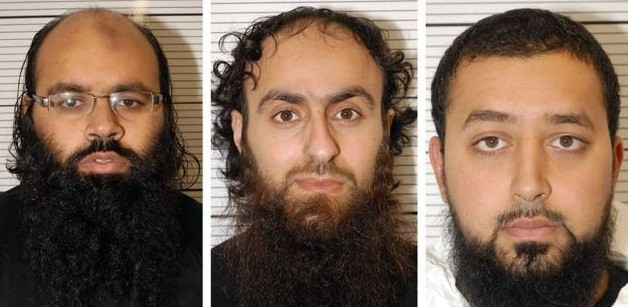 The leaders of a Birmingham militant gang who planned to commit the biggest ever attack on British soil have been jailed.
Irfran Naseer, 31, was given five life sentences with a minimum of 18 years after he was found guilty of terrorism offences.
Naseer, 31, was described as the man in charge of the operation to detonate eight rucksack bombs to cause catastrophic damage and loss of life and turning the city into a "little warzone".
Naseer hatched the plot along with Irfan Khalid, 28, and Ashik Ali, also 28. Khalid was sentenced to 23 years with a minimum of 12 years and Ali sentenced to 20 years, serving a minimum of 10.
Judge Justice Henriques told Naseer: "Your plot had the blessing of al-Qaida and you intended to further the aims of al-Qaida.
"Clearly nothing was going to stop you, short of intervention of the authorities. Many deaths were planned by a determined team of individuals who were fully radicalised and you, Naseer, was their leader. No lack of assets, skill or manpower was going to stop you."
The defendants were convicted of 12 counts of preparing for acts of terrorism between December 2010 and September 2012.
Potential for another 9/11
The court heard how they planned to commit an act of terrorism "on a scale potentially greater than the London bombings in July 2005 had it been allowed to run its course".
Khalid boasted that the attack had the potential to be "another 9/11".
The plot was the most significant terror plan uncovered in Britain since the 2006 plot to blow up transatlantic airliners using bombs in drinks bottles, police said.
The gang raised more than £20,000 by claiming to be collecting for Muslim Aid on the streets of Birmingham.
Associate Rahim Ahmed, 26, lost more than £9,000 of this money by gambling on the stock market. He was sentenced to 12 years, with minimum of six, for raising money for acts of terrorism and helping others travel to Pakistan for terror training.
Shahid Khan, Khobaib Hussain, Ishaaq Hussain and Naweed Ali all received 40 months and will serve a minimum of 20 months after admitting travelling to Pakistan in August 2011 to train to commit acts of terrorism.
Henriques told Naseer that he "must take responsibility for sending four young men to Pakistan for terrorism training".
He added: "It is an especially aggravating feature that the four young men were sent without their parents having any knowledge that they were being sent for terrorism training, believing indeed that they were still in the country,".
Mujahid Hussain, 21, was sentenced to four years in prison for being involved in raising funds for terror. Mohammed Rizwan, 29 was jailed for four yearsfor obtaining material for terrorist purposes.
Bahader Ali, 34, who is Ashik's brother, received six years for the same offence.
Police said the group were heavily influenced by the teachings of American-born al-Qaida preacher Anwar al-Awlaki, who was killed by a drone strike in Yemen in September 2011.