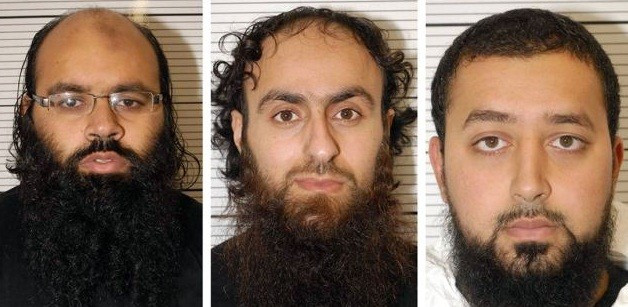 A member of a three-man Birmingham gang accused of plotting a terrorist attack on the UK said westerners deserved to be attacked because they "have sex like donkeys".
The alleged leader of the group, Irfan Nasser, added people deserved to be terrorised because they take part in orgies and use drugs, a court heard.
Nasser, 31, along with Irfan Khalid and Ashik Ali, both 27, are accused of planning to detonate eight rucksack bombs which, had the plot not been foiled by police, would have dwarved the 7/7 attacks in London.
All three men deny the charges against them at Woolwich Crown Court.
Naseer, a trained chemist, was secretly recorded by police attempting to justify the plot.
He said: "You know the main thing is bro all this world is s**t bro, you know the only thing which is good is Allah's Deen (faith)."
Speaking of non-believers, he added "they want, you know, have sex like donkeys on the street, they want to club, act like animals and why shouldn't we terrorise them, tell me that?
"If someone came in your house and started dancing throughout the night and started basically having orgies and smoking drugs... you would terrorise them."
The court previously heard audio footage in which Naseer described how a homemade bomb weighing just 1kg had the ability to kill about 25 people and injure more than 50 "especially if shrapnel like nuts or nails were sellotaped to it".
The three conspirators were also recorded discussing the purchase of quad bikes for themselves, so they could enjoy themselves in the final weeks before their suicide attacks.
Khalid said: "When you know your time's coming to an end and you want to enjoy something, that's fair play, innit?"
Naseer replied: "I wouldn't mind riding a quad bike but I wouldn't do it on the road. A guy with a beard and that sitting on top of that doesn't look good, bro."
The court was told the men applied for payday loans to help raise funds for the attack. It is alleged the men were not worried about the high interest rates as they would not have to pay them back if their plan was successful.
Ali also attempted to get a £15,000 loan from a bank by saying he was starting a double-glazing business, while an associate, Rahim Ahmed, lost more than £9,000 the group had raised posing as charity workers by gambling on the stock market.
The court also heard Khalid jokingly referring to the group and Ali's brother Bahadar as "four suicide bombers driving around ready to take on England".
The trial continues.