Another 9/11: Birmingham Trio Irfan Naseer, Irfan Khalid and Ashik Ali Guilty of Carnage Plot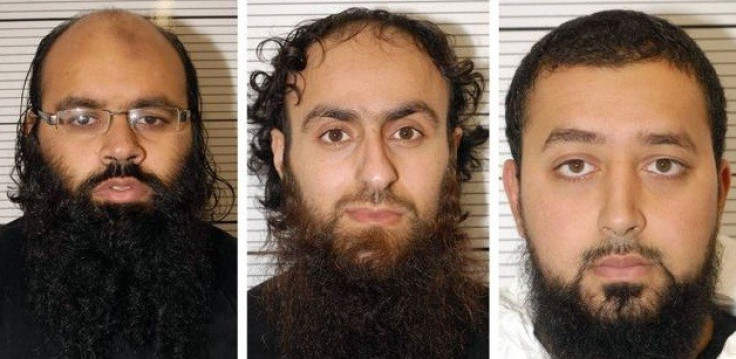 Three men have been found guilty of plotting a terror attack which had the potential to be 'another 9/11' had it succeeded.
Irfan Naseer, 31, Irfan Khalid, 27, and Ashik Ali, 27, all from Birmingham, have been found guilty of plotting to detonate eight rucksack bombs to cause "catastrophic" damage and loss of life.
The three men were found guilty at the end of a four-and-a-half month trial at Woolwich Crown Court. They were also guilty of raising money for terrorism and recruiting others for a terror act.
The defendants were convicted of 12 counts of preparing for acts of terrorism between December 2010 and September 2012. They face life imprisonment when they are sentenced in April or May.
Brian Altman QC, prosecuting, told the court: "Police successfully disrupted a plan to commit an act or acts of terrorism on a scale potentially greater than the London bombings in July 2005 had it been allowed to run its course."
Those bombings killed 52 people dead and a further 700 were injured.
Planning a terrorist outrage in Birmingham
Six other men have also pleaded guity to terror-related offences, including charges travelling to Pakistan to receive terrorism training.
Naseer had played a huge part in sending these men to be trained.
Mr Justice Henriques told Naseer: "You were seeking to recruit a team of somewhere between six and eight suicide bombers to carry out a spectacular bombing campaign, one which would create an anniversary along the lines of 7/7 or 9/11. It's clear that you were planning a terrorist outrage in Birmingham."
Police ran a huge undercover operation in order to gather the evidence against the men. They were arrested after they were recorded engaging in in-depth discussions about the planned attack.
One audio recording heard Naseer describing how a homemade bomb weighing just 1kg had the ability to kill about 25 people and injure more than 50 "if shrapnel like nuts or nails were taped to it".
The court aslo heard how the men applied for payday loans to help raise funds for the attack. It is alleged the men were not worried about the high interest rates as they would not have to pay them back if their plan was successful.
The gang also raised more than £20,000 by claiming to be collecting for Muslim Aid - before losing it all on the foreign exchange markets.
Ali also attempted to get a £15,000 loan from a bank by saying he was starting a double-glazing business, while an associate, Rahim Ahmed, lost more than £9,000 the group had raised posing as charity workers by gambling on the stock market.
7/7 had 'gone a bit wrong'
Det Insp Adam Gough, of the West Midlands Counter Terrorism Unit, said: "They were the real deal. They were committed, passionate extremists hellbent on pursuing their intention of killing as many people as they could in coordinated suicide bomb attacks.
"They not only had that intention, they also had the capability, capacity and determination to make it a reality."
Karen Jones, specialist counter-terrorism prosecutor for the Crown Prosecution Service, said: "These men had dangerous aspirations and while the precise targets remained unclear, the potential for damage and loss of life from their plot should not be underestimated.
"The evidence we put to the court showed the defendants discussing with awe and admiration the attacks of 9/11 and 7/7. These terrorists wanted to do something bigger, speaking of how 7/7 had 'gone a bit wrong'.
"Having travelled to Pakistan for expert training and preparation, Naseer and Khalid returned to the UK where they discussed attacks involving up to eight rucksacks. Had they not been stopped, the consequences would have been catastrophic."
© Copyright IBTimes 2023. All rights reserved.