Apple has discounted the prices of its iPads, MacBooks, iMacs and iPod as part of its Black Friday sales in the UK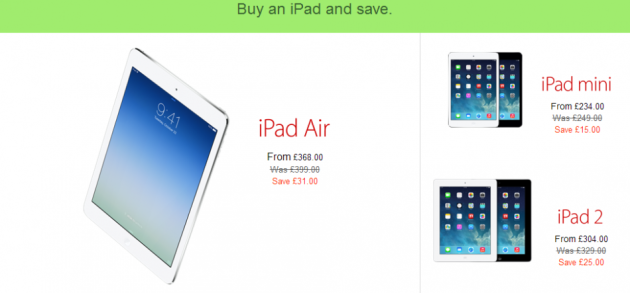 Unlike elsewhere in the world, where Apple is offering gift cards with purchases, UK shoppers will be able to take advantage of discounts on certain products of just under 10%, including discounts on the iPad Air, iPad mini and Mac computers range.
Below is the full list of discounts Apple is offering its UK customers on 2 December:
iPad Air (16GB):

£399

£368 (£31 off)
iPad Mini (16GB):

£249

£234 (£15 off)
iPad 2 (16GB):

£329

£304 (£25 off)
MacBook Pro:

£999

£918 (£81 off)
MacBook Pro Retina:

£1099

1018 (£81 off)
iMac:

£1149

1068 (£81 off)
MacBook Air

£849

£768 (£81 off)
iPod touch -

£249

224 (£25 off)
iPod nano -

£129

£118 (£11 off)
Apple TV -

£99

£84 (£15 off)
Apple is also offering a range of accessories at discounted prices including the AirPort Time Capsule (£25 off); Bowers & Wilkins A5 speaker (£70 off); Disney Creative Studio Deluxe (£5 off) and Parrot AR Drone 2.0 £36 off). You can see all the deals available here
Apple has decided that it will offer various Black Friday deals in different parts of the world, with the US and Australian stores offering gift cards with purchases made on 2 December.
Down under, everyone buying a MacBook or iMac will receive a bonus A$150 (£84, €100) gift card to spend in an Apple Store, through Apple's online store, in the App Store or on iTunes.
Those buying the iPad Air or iPad mini will get half that amount (A$75) while iPod purchases will get a A$50 bonus gift card.
While Apple traditionally offered discounts on retail prices everywhere, the gift card deal will make sure customers return to Apple stores and remain loyal to the brand - something Apple is very keen to maintain.
Black Friday deals on Apple products will be available elsewhere (such as Amazon) and are likely to include discounts, but such is the premium value associated with Apple products, these discounts are unlikely to be very big.
Read more: