Former BlackBerry CEO Thorsten Heins has bid farewell in a letter sent to his employees, in which he describes himself as the struggling smartphone-maker's "biggest fan".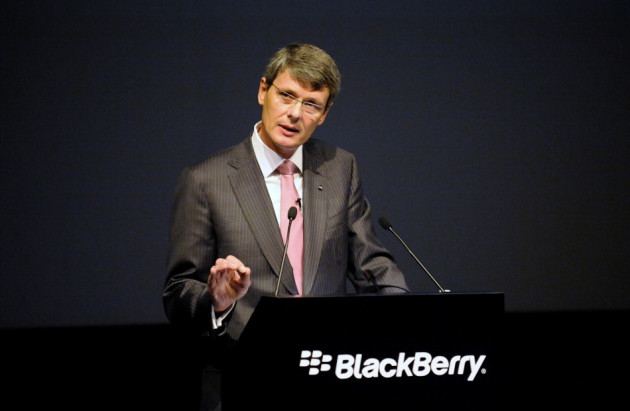 "I will be cheering from the sidelines," Heins said in the letter, distributed to BlackBerry staff by email two days after it was announced a £3 billion takeover bid by Fairfax Financial Holdings had been abandoned, costing Heins his job.
Instead of an outright acquisition, Fairfax and other investors have pumped $1bn (£620 million) into the floundering Canadian company in the hope of reviving it, after years of decline due to competition from rivals Apple, Samsung and Google.
Capable hands
"Today I bid farewell to this great company," Heins wrote. "But leave with the confidence of knowing that BlackBerry's future is in your capable hands. Together, we have accomplished a great deal over the past six years, and I thank you for your loyalty and dedication along the way."
Heins, 55, joined BlackBerry in 2007 and became senior vice president of the firm's Handheld Business Unit, before switching roles to chief operating officer of product engineering, and then of product and sales. In January 2012 Heins was named company CEO, replacing former co-CEOs and co-founders Jim Balsillie and Mike Lazaridis.
Once the $1bn transaction has been completed in mid-November Heins will give way to John Chen, who will take up the chief executive role on an interim basis until a new permanent leader is found and a new direction for the company can be established.
Heins praised Chen's previous work as CEO at Sybase. "Mr Chen's experience transforming Sybase from a mature technology company into a high-growth enterprise data management, data warehousing, mobility management and analytics innovator, as well as his deep roots in the technology industry will be invaluable to BlackBerry's future."
Regarding Fairfax boss Prem Watsa, Heins called him a "long time BlackBerry supporter and one of Canada's preeminent investors." Having left the BlackBerry board to initiate his company's attempted buyout bid, Watsa will rejoin as lead director.
Questions
To answer staff questions, Heins will be hosting a town hall meeting in the coming days where they can hear directly from the new leadership team and the outgoing CEO.
Looking forward, Heins reassured employees by saying their day-to-day responsibilities will "remain the same through this transition."
Heins added: "As a team, each and every one of you plays an important role in BlackBerry's success, so I thank you for staying focused on delivering the high quality products and services that our customers have come to expect from BlackBerry throughout this transition.
"You can continue to count me as BlackBerry's biggest fan. Please know that I will be cheering from the sidelines."