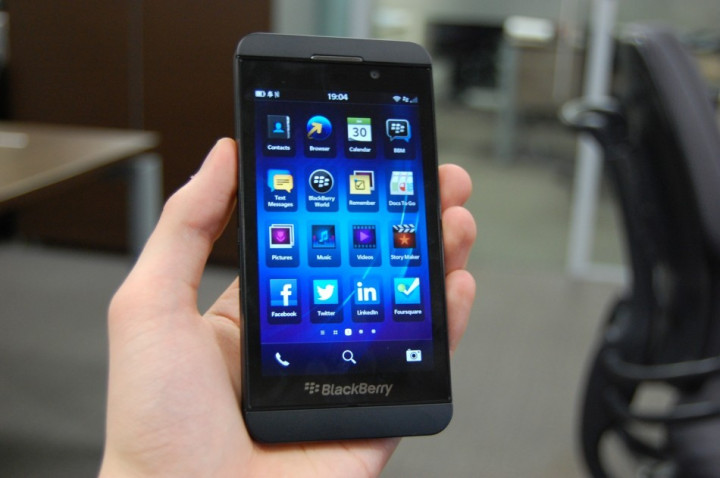 The BlackBerry Z10 smartphone has gone on sale in the UK before anywhere else this week, and is supported by all major networks. We've searched every provider to find the best deals for anyone thinking of making the switch and giving BlackBerry another chance.
Billed as Vodafone's first 4G smartphone, the BlackBerry Z10 will work with the provider's superfast network once it comes online later this year, thanks to BlackBerry fitting the Z10 with multi-bands radios to work with a wide range of 4G spectrums.
All Vodafone tariffs for the Z10 are 24 months long, and start at £33 per month. For that, you get 600 minutes, unlimited texts, 500MB of internet use, and the handset costs £129.
Next is the Red plan, which costs £37 per month and offers unlimited calls and texts, along with 1GB of internet use, and the phone costs £69; up your budget to £42 and the Red Data plan increases data usage to 2GB and reduces the handset price to just £29.
Finally, for £47 per month you can have unlimited calls and texts, 2GB of data, and the phone is free.
Still the only UK network to offer 4G, EE offers the BlackBerry Z10 on seven different tariffs, all 24 months long, offering unlimited calls and texts, and ranging from £31 to £61 per month.
For £31 you get 500MB of data and the phone costs £199.99, while an extra fiver per month will knock the handset down to £149.99, but you're still stuck with just 500MB of data, which could disappear quickly over 4G.
1GB of data costs £41 per month with the phone priced at £49.99, 3GB is £5 more and the phone falls to £29.99.
The phone remains at £29.99 for the £51, £56 and £61 per month contracts, which offer 5GB, 8GB and 20GB of monthly data respectively, although the £61 plan will go up to a massive £76 per month from 1 March.
If you don't require 4G - or don't want to pay the extra cost - then EE will offer the Z10 on 3G through T-Mobile on contracts ranging from £7 to £46 per month.
Of the 20 tariffs on offer through T-Mobile, one of the most attractive is an 18-month deal priced at £36 per month, which gets you 2000 minutes, unlimited texts and mobile internet, and the phone costs £49.99.
For £5 less, T-Mobile will sell you the BlackBerry Z10 for £99.99 and include 600 minutes, unlimited texts and 1GB of mobile internet.
Flying in the face of simplicity, O2 offers no fewer than 48 different tariffs for the BlackBerry Z10, so to save this article becoming 5,000 words long, we've picked a handful of 24 month contracts at a range of prices.
O2 contracts start at £13.50 per month, but for that you have to shell out £379.99 for the phone and you get just 50 minutes and 100MB of data, along with unlimited texts. For us, this tariff makes very little sense, but for those who text far more than they tweet, and don't mind the upfront cost, it could be an option.
More realistically, O2 offers a 24 month deal with unlimited calls and texts, and 1GB of monthly internet use for £26 per month; the Z10 will cost you £199.99.
For £36 per month you can get the BlackBerry Z10 for free on a 24 month contract that gives you unlimited calls and texts, and 1GB of mobile internet, or this can be increased to 2GB for an extra £5 per month.
Three doesn't yet have the BlackBerry Z10 on its website, but Carphone Warehouse offers three tariffs from the network.
Priced at £33, £34 and £36 per month, the tariffs all offer 5,000 texts and unlimited internet (subject to fair usage), and in each case the Z10 costs £49; the deals offer 500, 1000 and 2000 minutes respectively.
Phones4U has an exclusive deal on the white BlackBerry Z10 until 18 February, which it is selling through all of the above networks at a range of different tariffs.
The website is also giving away a free BlackBerry PlayBook 64GB tablet with the Z10, but only for the first 250 orders placed online or over the phone.
SIM-free
Finally, O2 and Carphone Warehouse are offering the BlackBerry Z10 SIM-free for £479.95.
Our initial thoughts on the Z10 can be found here, and a full review will be published later this week.