A leaked video of a near-finished BlackBerry 10 handset has appeared online weeks ahead of the launch of RIM's new platform officially launches.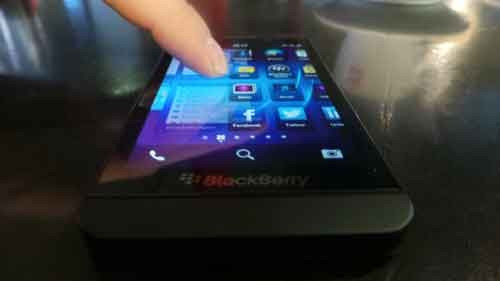 Details of RIM's make-or-break BlackBerry 10 operating system and the smartphones which will be launched along with it have been leaked online numerous times over the past few months, and we now have a hands-on video of a near-finished BlackBerry Z10 running BB10.
BlackBerry will launch the new operating system and two new handsets at an event being held in six locations around the globe simultaneously on 30 January. Along with the fully-touchscreen Z10, the company is also expected to show off the hybrid BlackBerry X10, which will combine a touchscreen with the iconic BlackBerry physical QWERTY keyboard.
The video, from Telekom Presse, shows someone using what is thought to be a near-finished product, though there could be a couple of features which will appear in the final product missing from the device shown in the video.
The phone looks a lot like an iPhone in terms of design, with its square edges and rounded corners makring it out from the likes of the Samsung Galaxy S3 or HTC One X. It looks all glass and black metal - again like the iPhone - and the rear is finished in a soft touch rubber featuring the recognisable BlackBerry logo.
The front is all screen with no physical or capacitive touch buttons to be seen.
Notification
You see a red notification light pulsing in the top right-hand-corner and according to the video the screen is 4.2in with a HD resolution of 768 x 1,200. On the rear will be an 8 megapixel camera with LED flash, and inside the Z10 will be powered by a dual-core processor, paired with 2GB of RAM and 16GB of storage.
The phone will weigh 125g, which is only slightly heavier than the featherweight iPhone 5, and measure 129 x 65 x 8mm - all according to Telecom Presse.
The BlackBerry 10 interface itself is identical to the one shown to IBTimes UK some months ago, with RIM playing up the fact that it will allow you to get to the apps and content you want quicker and more efficiently.
Everything is controlled by a number of swipe gestures, including unlocking the phone, seeing your most recent apps and letting you 'peek' at notifications.
In terms of apps, RIM has said that more than 15,000 BlackBerry 10 apps were submitted to BlackBerry App World in less than two days. The company is offering developers $100 (for every approved app) to port their Android and iOS apps over to the platform in order to bulk out the app store ahead of the 30 January launch.
While 15,000 apps in two days is impressive getting the App World catalogue to the levels available to Android and iOS users will be a real challenge, and getting the quality and core apps available in time for launch will also be a major concern for CEO Thorsten Heins.
Microsoft has discovered that no matter how well a mobile operating system looks and works, if the breadth and depth of app is not available it will quickly turn users off a certain eco-system.